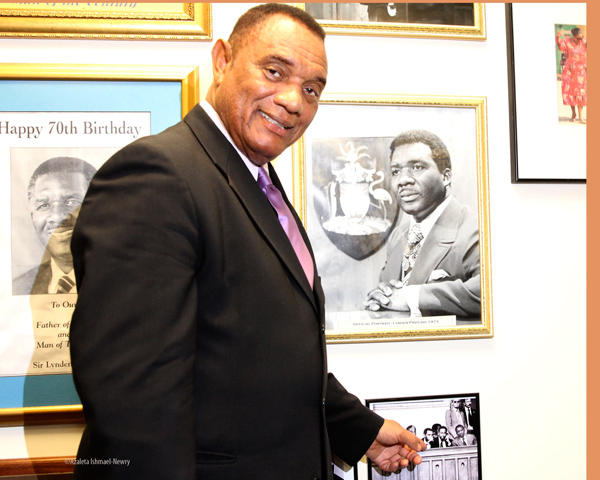 Nassau, Bahamas – The Sir Lynden O. Pindling Foundation and The College of The Bahamas marked the life and legacy of former Prime Minister the late Sir Lynden Pindling at the official opening of the Sir Lynden Pindling Room, a special exhibition space in the Harry C. Moore Library and Information Centre on Monday, August 26th.
Widely credited as the "Father of the Nation" and visionary architect of the modern Bahamas, Sir Lynden's vision has impacted nearly every facet of nationhood in The Bahamas.
Mrs. Monique Pindling-Johnson said her father strongly believed that education "liberates people". The official opening of the Sir Lynden Pindling Room, therefore, is a fitting tribute.
Mrs. Pindling-Johnson added that in the months leading up to independence, when teaching Bahamians about why he thought such a move would be good for The Bahamas, Sir Lynden's basic tenet was: "In order for a people to understand where they are headed, it is important for them to understand from whence they came."
"Ours is a rich history that should be preserved and information about (it) should be easily accessible, so that all Bahamians, particularly school children, can learn more about the history of The Bahamas and about themselves, first hand," she said.
The Sir Lynden Pindling Room will showcase personal effects, family and political photographs, as well as gifts received from world leaders during the Pindling era.
College Librarian Dr. Berthamae Walker is pleased that the Harry C. Moore Library will feature the enduring tribute.
"We are hoping that we will see a lot of research coming out of the Sir Lynden Pindling collection.   We invite the public in to learn about The Bahamas, learn about Bahamian authors and to do more research," she said.
Prime Minister Perry Christie delivered remarks at the opening ceremony on Monday. The Sir Lynden Pindling Foundation has given $300,000 towards the establishment of a permanent exhibition in honour of Sir Lynden's life.
Under Sir Lynden's leadership, The Bahamas achieved its independence from Great Britain and was steered through a marked period of growth and development.
Born on March 22nd, 1930, Sir Lynden served as The Bahamas' first black premier from 1967 to 1969. His term as Prime Minister of The Bahamas lasted from 1969 to 1992 and his leadership of the Progressive Liberal Party came to an end in in 1997, when he resigned from public life. Sir Lynden passed away in August, 2000.
The Sir Lynden O. Pindling Foundation was established in 2001 as a non-profit, non-partisan charitable company. Its primary purpose is to promote Sir Lynden's legacy "by developing programmes and projects for the benefit of the people of The Bahamas, which are geared to enhance national pride, social responsibility, historical and environmental awareness…"