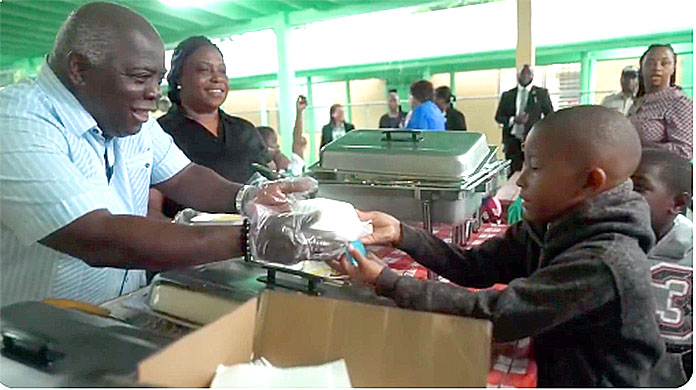 Hon. Glenys Hanna Martin Visits Ridgeland Primary for Breakfast
Principal Encouraged by Impact on Student Attendance and Engagement
NASSAU, The Bahamas – On Thursday, November 16, 2023, the Honourable Glenys Hanna Martin, Minister of Education & Technical & Vocational Training marked the one-month milestone of the National School Breakfast Pilot Programme with a visit to Ridgeland Primary, one of the programme's pioneering schools.
The National School Breakfast Pilot Programme (NSBPP) launched in New Providence on October 2nd, 2023 and expanded to the Family Islands on November 3rd, 2023. Since its launch, the NSBPP has grown to serve breakfast in eight schools throughout The Bahamas (four schools in New Providence and four schools throughout Grand Bahama and the Family Islands). The NSBPP offers six breakfast options served three times a week to approximately 2,000 students. The aim of the NSBPP is to ensure that students have an equal opportunity to thrive in school.
The Principal of Ridgeland Primary, Ms. Samantha Anderson, explains that she has seen a change in student enthusiasm and engagement since the inception of the programme.
Principal Anderson stated, "We all know that breakfast is the most important meal of the day, and with that, the students are eager just to come to school to have breakfast. I've seen a tremendous impact on attendance here at school all because of the breakfast programme. Not only has there been tremendous growth, but we also have seen engagement in the classroom – our students are more energized."
The Ministry of Education & Technical & Vocational Training is staffed with food scientists who oversee the programme, which is supported by school administrators and the Office of the Prime Minister to ensure the successful implementation of the programme. The Ministry of Education & Technical & Vocational Training believes the NSBPP is nourishing the next generation of leaders, one meal at a time.