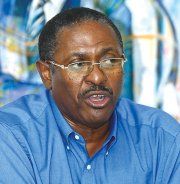 By Bradley B. Roberts
Progressive Liberal Party
The PLP thanks the people of The Bahamas for a wonderful display of democracy in today's Referendum on whether or not Bahamians want Web Shop Gaming regulated and taxed and the establishment of a National Lottery.
As the world looked on, the Bahamian people conducted themselves peacefully and with great respect for others as the Referendum was held without incident.
The Prime Minister was clear that his government would be guided by the results of the Referendum and the will of the people. The people have spoken and have rejected the regulation of Game Shops and the establishment of a National Lottery.
The Prime Minister is commended for his leadership in this exercise and for demonstrating great strength, focus and discipline in the face of harsh and in some cases misleading and unfair attacks. He was consistent in his position and never wavered when others have flip-flopped on this issue.
As Web Shop Gaming is currently illegal under Bahamian law, we expect that the government will allocate the necessary resources to enforce the law.