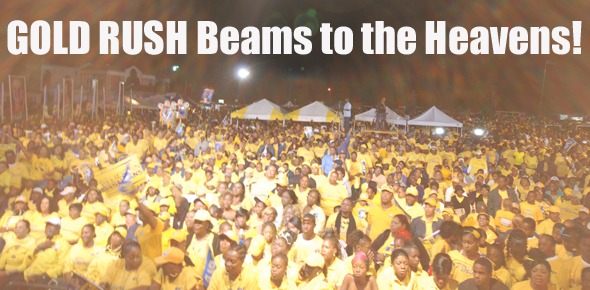 Bahamians say the PLP is the only thing they want!
Nassau, Bahamas — If you follow the Gold Markets as we do, you will find the price of Gold is going up all over the world. In London, in Canada, in Hong Kong, and in New York – everywhere, everyone is experiencing meteoric rise in the price of GOLD.
Here in the Bahamas, the tidal wave of Gold has hit a fever pitch. It has hit the Bahamas like the Solid Gold dancers. Everywhere you turn in the Bahamas, from Grand Bahama in the north to MICAL in the South, the price of GOLD in rising.
Like the world markets, GOLD went up by 3 percentage points on the Bahamian exchange and right now is causing heads to turn all around the world.
World Market traders can tell that something big is happening in the Bahamas, "Everywhere you turn in the trading room you hear about Christie Davis and Roberts and that mighty GOLD RUSH happening down there!"
Tonight, global satellites picked up the glitter of the rising new Bahamian government.
In China, which is known for its red flag and strict policies, are reaching for the GOLD of the Bahamas.
In Japan, we are being told, questions are being asked right now about what is happening in the Bahamas.
In India at this moment, investors are poised just outside the bar, waiting for the Bahamian people to vote out the ONE MAN GOVERNMENT, which has held the people of the Bahamas hostage for 15 of the last 20 years.
There is a GOLD RUSH sweeping the nation and the world is watching.
Bahamas REACH FOR THE GOLD!
IT IS NOMINATION DAY!

We report Yinner decide!