Oswald Brown

Oswald Brown WRITES!
By OSWALD T. BROWN
I'm angry, very angry. I've just found out that the Hubert "THE DICTATOR" Ingraham's administration has approved the work permit of an Englishman to become the new Managing Editor of The Freeport News, even though there are Bahamians working at Grand Bahama's daily newspaper who are well qualified for that job.
This is a personal matter as far as I'm concerned. With a background of more than 50 years in journalism, I was Managing Editor of The Freeport News for seven years before I was forced into retirement without a day's notice after I wrote an editorial critical of Marco City Member of Parliament Zhivargo Laing in November of 2009 and a "personal column" critical of Prime Minister Ingraham in February of 2010 several weeks prior to the Elizabeth bye-election.
Since I was fired, for that is indeed what happened, Andrew Coakley and Barbara Walkin have jointly done an excellent job editorially in putting out the newspaper. Any one of them fully qualified to become the new Managing Editor, but more so Mr. Coakley, who was my sports editor at The Freeport News.
By any yardstick, Andrew is an excellent journalist, with expertise beyond his sports specialty.
Yet the Ingraham administration rubber stamped an application for an English journalist to do a job that Andrew is more than capable of doing. Andrew proved this beyond a shadow of a doubt in the two years since my "forced retirement" when he served as "Acting Editor."
I can't understand why this Ingraham administration refuses to accept that where Bahamians are qualified for jobs, they should be given first preference. It seems as if Ingraham, who in essence is a one-man force as far as the leadership of the FNM is concerned, simply refuses to put Bahamians first.
Politics aside, though, this is disgraceful. There cannot be a more obvious example of a Bahamian being overlooked for a position that he is clearly qualified for in favour of a foreigner.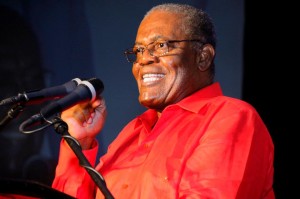 And the fact that this most egregious act of injustice against a Bahamian is taking place in Grand Bahama further proves that the welfare of Grand Bahamians is not a top priority to Hubert Ingraham.
He demonstrated this convincingly over the past five years when his harsh policies crippled Grand Bahama's economy, totally demolished the island's once well entrenched middle class, created the highest unemployment rate in the island's history, and ushered in an era of pain and suffering that Grand Bahamians are still grappling with.
Yet, Ingraham has the gall and audacity to ask Grand Bahamians to give his FNM another five years in government to continue their program of putting foreigners first, as they have done in approving a work permit for John Fleet, the new Managing Editor of The Freeport News.
Fleet took over as the top decision-maker of what news goes into the Freeport News several weeks ago, and his name now appears prominently in the masthead of the newspaper.
I do not know what Mr. Fleet's background in journalism is. But I do know that properly trained British journalists are among the best in the world.
Indeed, I had to opportunity, thanks to the late Sir Lynden Pindling, to receive one year's training in 1968-69 on The Evening Standard, one of Great Britain's top newspapers. I credit that training as being the most important contribution to my more than 50 years journalistic career.
Nonetheless, even if Mr. Fleet is a highly accomplished British journalist, it is absolutely wrong for the Ingraham administration to grant him a work permit to do a job that a Bahamian is highly qualified to do and indeed has been doing since I was "fired" in 2010.
I am now demanding that Hubert "THE DICTATOR" Ingraham rescind the work permit of Mr. Fleet, and tell the owners of The Freeport News that there are Bahamians qualified for the position of editor of that newspaper and who are currently members on the staff of that newspaper.
Obviously, there are numerous examples of where Ingraham has demonstrated that he does not believe that in The Bahamas Bahamians should be given first preference when they are qualified for certain jobs, but there cannot be a more blatant example of where this is indeed the truth.
Mr. Prime Minister, on behalf of the many Bahamians that you have disappointed in not putting Bahamians first, I demand that you revoke the work permit of John Fleet, the new Managing Editor of The Freeport News.
–ends–