The PM never met Satpal Dhunna and Dhunna now confirms he was not here to sign the agreement!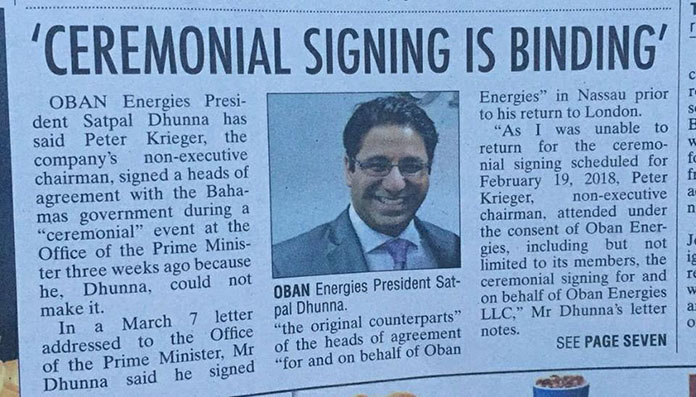 Nassau – There is no way around it: Prime Minister Hon. Hubert Minnis must immediately resign for misleading Parliament!
We were told that the document tabled in Parliament was signed by Satpal Dhunna. That document was tabled dated the 19th of February but Mr. Dhunna was not even in the country according to his letter this morning in the papers. He confirmed that he wasn't in the country, according to his own letter [MARCH 7TH, 2018], which was written to the PM and published today [MONDAY 12th March, 2018].
The Prime Minister of the Bahamas either tabled a document that was manipulated to reflect the 19th of February, or he tabled a document that was forged. Fraud by FALSE PRETENSE! And perhaps from the looks of things we are looking at rank misfeasance and or malfeasance on the part of public officials.
Now, if you read the Nassau Guardian of March 2, in the article "Oban Deal Tabled" it says: "According to the heads of agreement tabled by Prime Minister Dr. Hubert Minnis last night, Oban President Satpal Dhunna and Secretary to the Cabinet and Secretary to the National Economic Council Camille Johnson signed the official heads.
"The agreement is dated February 19, 2018, the same day the government held a press conference at the Office of the Prime Minister and signed a heads of agreement with Krieger."
You will remember the Press was told Mr. Dhunna arrived late for the signing. We are now learning that was a lie.
Bahamas Press is now calling for the police to step in and open an investigation into this! This is criminal. This is fraud. This is Fraud by False Pretense. Rank misfeasance and or malfeasance on the part of public officials.
BP wants to remind the press how they were told that Mr. Dhunna was late for the signing. And everyone should remember Oban's open letter published in the dailies, which suggested that Satpal Dhunna was in the country and on the ground in Grand Bahama. Another LIE!
Take it from us, The Prime Minister has never met with Satpal Dhunna. And now the Environment Minister has told reporters don't ask him anything on OBAN! Ask the Minister responsible PM Minnis. WELL WAIT!
We report yinner decide!