C. B. Moss we knew never paid for all those commercials and Town Hall Meetings – now more information set to be revealed!!!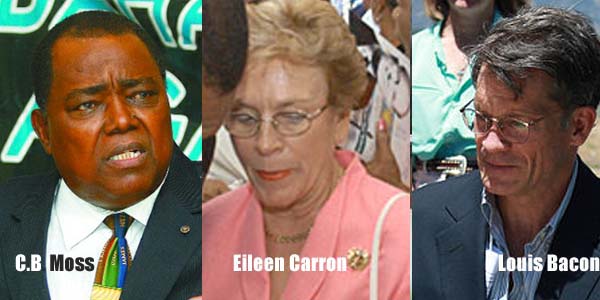 When will someone from this group speak TRUTH!!! How could you Save Clifton when Bahamians OWN IT?!!! And save it for who? MORE TO COME!!!!

NASSAU, BAHAMAS — We are now certain of what we know and Bahamas Press is never wrong when it comes to investigating stories.
For four whole days now C. B. Moss, the man hired by powerful people to join them in a destabilizing the Bahamas exercise, has hidden himself like a baby after our revelations about him making an offer to Louis Bacon's brother, Zach Bacon.
Now we at Bahamas Press want Bahamians to follow this one closely, because, as we promised, the ride is most certain to get bumpier before it turns smooth.
We presented facts on how on March 14th, 2013 a telephone conversation between Louis Bacon's brother and the Rev. C. B. Moss took place. We reported how, following that conversation, a communication was issued  [CIRCULATED] via emails outlining what it was Moss wanted in exchange for his involvement in the fight against Prime Minister Perry Christie, Deputy Prime Minister Philip Brave Davis and Attorney General Allyson Maynard–Gibson and what he wanted if he became involved in the campaign now being waged against Louis Bacon's neighbour.
Today – according to those same leaked email communications – we know that the Rev. C. B. Moss sat in at least one meeting with the group who want to save land and seabed at Clifton, which, Bahamians already own! And while CB went on Talkshow after Talkshow denying to be involved with Louis Bacon's coalitions – Bahamas Press is now exposing in detail the LIES!
We at Bahamas Press never dismissed for one minute the thought that Moss was in the Bacon circle. We knew he was all along, even though he continuously denied it! By the time and this series of articles are done, it will reveal just how involved he is in the ongoing fight with those "OUTSIDE FORCES" to destabilize the people of the Bahamas and discombobulate our stable, peaceful democracy.
Last week we showed you how after feeling confident that he [MOSS] will be in – C. B Moss wrote the following:
From: Rev. C. B. Moss [mailto:revcbmoss@hotmail.com]
Sent: Thursday, March 14, 2013 11:52 PM
To: Zack Bacon
Subject: Telephone Conversation
March 14th 2013
Good Evening Mr. Bacon:
Our telephone conversation this afternoon brought much clarity to the matter under discussion.
Following a comprehensive review of my side of the equation, I can confirm my participation in the project under the following conditions:
TITLE: VICE-PRESIDENT
SALARY: $75,000:00 PER ANNUM
BENEFITS: a.VEHICLE
b. OTHER (TO BE AGREED)
If this is acceptable I am available to commence immediately, and can make the Board Meeting tommorrow.
Regards
Rev. Dr. C. B. Moss

Now Bahamas Press need not say more because it is obvious. He pitched an offer – and was ready on DAY ONE to start work.
But after our expose of that email, almost immediately, the people who C. B. Moss said he did not know were out in the press attempting to clean up the blood on the floor. And the man who exposed the trick now to topple the Christie Government is out suggesting that we at Bahamas Press hack into someone's computer to attain what we now put in the public domain.
IT'S UNBELIEVABLE!
What is indeed interesting is the fact that when the Tribune in an editorial carried details from emails from a certain Law firm here in the country, Mr. Bacon didn't see those communications to have been "illegally attained" did he? Nor did he see that presentation by the morning daily as having a "Lack of Moral, ethical or legal conduct" on the part of reporting their findings in the public! That Tribune Editorial on July 23rd sought to throw a stone at Bahamas Press.
WHAT SHAMELESSNESS!!!
What the Bacons should know is that it is highly possible that the same person[s] who sat in those meetings and shared information to the Tribune – who failed to report what we wrote – may also be pointing evidence of the plot to BP! We in media need not thief or hack anything! People show media houses things and we call such evidential material as having come from "SOURCES"! Persons shared on vast emails could be the very ones you need to investigate Mr. Bacon! And if I was you – I'll start with C. B.
THIS IS BAHAMAS PRESS! AND WE KNOW HOW TO DELIVER NEWS WITH FACTS – NOT LIES!
BUT THERE IS MORE:
In the Friday, August 2 edition of the Tribune – Bacon's Mouthpiece – in an open letter to the editor [Da Brothel also on the payroll of Louis Bacon], Zach Bacon wrote:
"Along with my brother Louis Bacon, I was one of several people offering support in assembling an impressive cadre of directors and officers of the Coalition to Protect Clifton Bay ("CPCB"), now Save The Bays ("STB"), in March of this year. Revered Moss did not solicit STB, we reached out to him because of his reputation, his successful participation in the original Clifton fight, and his ability to galvanize and motivate others. He was offered a full-time job, a salaried position of Vice President – a very senior position – with STB."

When you read the letter in the Tribune this past week you will get a clearer picture as to why C. B. Moss was chosen to be in the mix – but now they are suggesting he opted out of the deal? Oh PLEASE!
NO ONE IN THE BAHAMAS BELIEVES THE REV. DR. C. B. MOSS IS PAYING FOR A TEN THOUSAND DOLLARS A WEEK CAMPAIGN – WITH HIS VOICE INCLUDED IN COMMERCIALS –  OUT OF HIS OWN POCKET!
Nor do we believe his active rounds on the TV shows and radio shows are free either! Nor do we believe his town meetings are all paid for out of his pocket! SOMEONE FROM OVERSEAS IS FOOTING THAT HUGE WEEKLY BILL!
Bahamas Press will show you how he opted out of the initial deal and got an even better offer to work for the Louis Bacon team in their quest to mount an all out attack against Peter Nygard and the Christie PLP Government!

C. B. Moss is now on the payroll and we ga prove it; because as we said this is just the beginning of the end!
Stay Tuned!
We report Yinner DECIDE!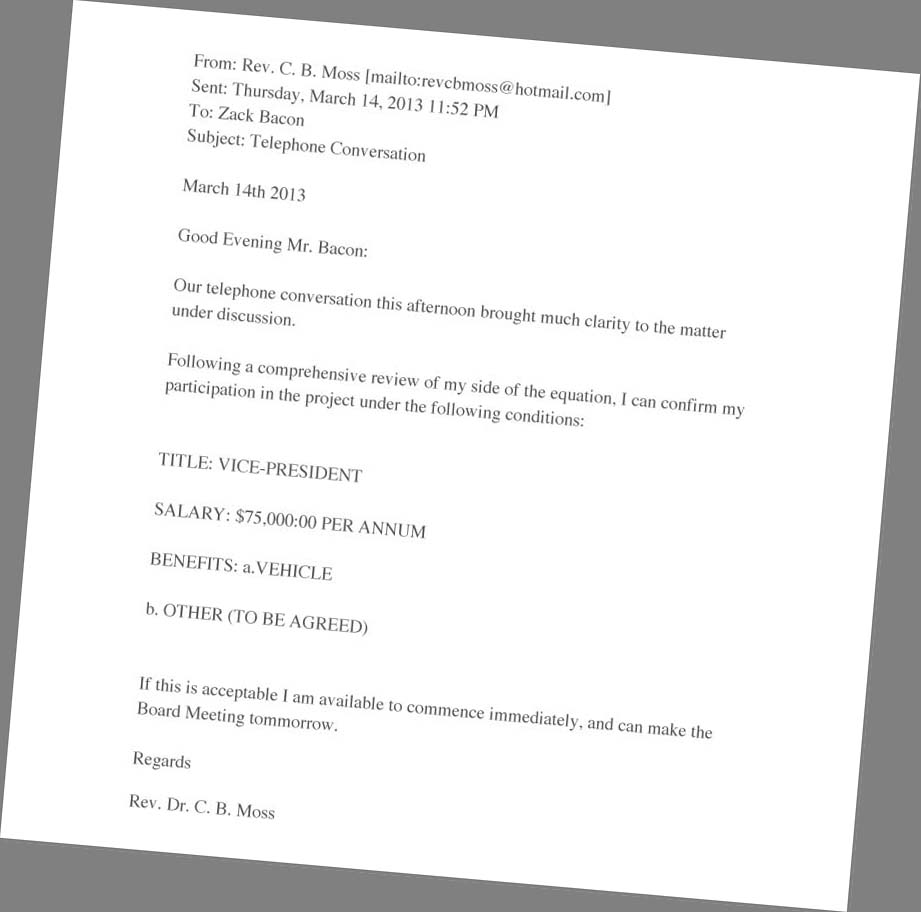 The group of Cock Blockers who are working for Louis Bacon in the name of the Environment! WHAT A CREW!~!