Playing of Taps by members of the RBPF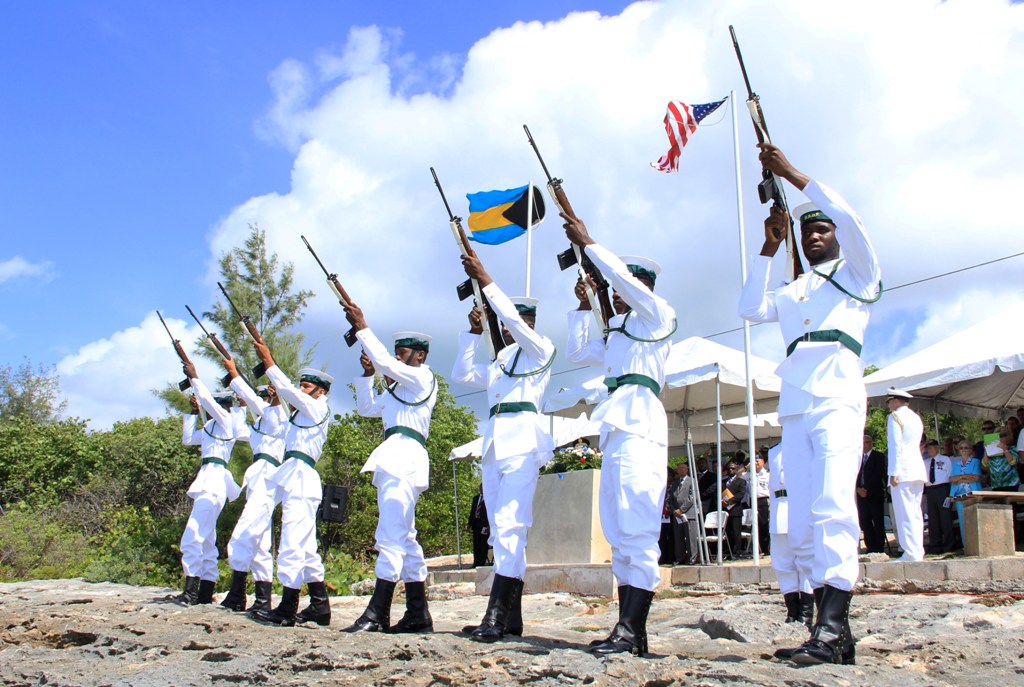 Nassau, Bahamas — On Monday, May 27, the United States Embassy commemorated Memorial Day with a wreath laying ceremony in memory of fallen military veterans.  Special recognition was given to the sailors from U.S. Patrol Squadron 23 who died off the coast of Nassau on May 7, 1954 and Private First Class Norman Darling who died in the Iraq War in 2004.  The special observance took place at the site of the Memorial to Patrol Squad 23 at Clifton Pier.
U.S. Chargé d'Affaires John Dinkelman, His Excellency Sir Arthur A. Foulkes, Governor General of The Bahamas, Minister of Foreign Affairs and Immigration, Fred Mitchell,  former U.S. Ambassador to The Bahamas John Rood and other officials as well as family members of the fallen sailors attended the ceremony.
In his remarks, Chargé Dinkelman used the opportunity to reflect on the sacrifices of the American servicemen and women, highlighting the support of the friends and allies of America's Armed Forces including fallen Private First Class Norman Darling and Bahamian WWII veterans of the British Legion-Bahamas Branch who were among the guests at the Memorial Day ceremony.
During the ceremony, Major Michael Iwanicki, U.S. Army National Guard read the crew list of the ten members of US Patrol Squadron 23: LTJG William H. Martin; ENS John C. Tinney; AT3 Joseph A. Kiliszewski; ATAN Thomas R. Caylor; AT3 Albert J. Olson; ENS Leland R. Osborn; ADC John W. Holle; AO3 Franz E. Nelson; AD3 Gerald P. Lepard and AL1 Fred M. Sparks, who lost their lives during a training mission off of the coast of Nassau on May 7, 1954 and Bahamian Private First Class (PFC) Norman Darling who died in the Iraq War in 2004.
A moment of silence was observed in memory of the fallen heroes followed by a gun salute by the Military Police Force Protection Unit of the Royal Bahamas Defence Force (RBDF).  Family members paid special tributes to their loved ones and the playing of Taps by the Royal Bahamas Police Force (RBPF) also signified the solemn occasion.  The ceremony concluded with the release of a commemorative wreath into the water by Karen F. Gregory, of the U.S. Army, while onboard an RBDF P-48 Cutter.