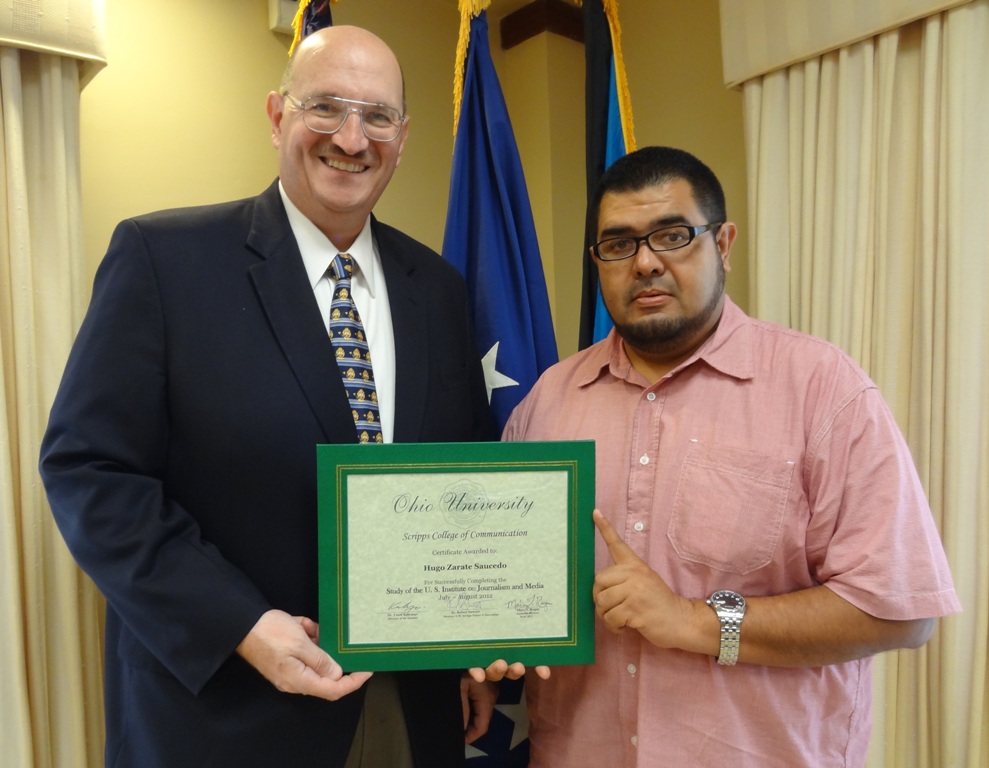 On Friday, September 7, Mr. Hugo Zarate, Associate Professor at the College of The Bahamas (COB) met with U.S. Chargé d'Affaires John Dinkelman to discuss his recent participation in the U.S. State Department's Study of the United States Institute (SUSI) program on Media and Journalism hosted by the University of Ohio.
Mr. Zarate was among a group of eighteen international journalists and scholars who participated in a six week professional exchange this past July and August focused on four main themes; media, ethics and society; the legal framework for media freedoms; roles and responsibilities of journalism in a democracy and changing media business models in an era of technological change.
While in the United States, Mr. Zarate had the opportunity to observe local, national and international news organizations in Washington, DC, Atlanta, Pittsburgh, and Chicago.
Mr. Zarate was also selected as a panelist to address the Association for Education in Journalism and Mass Communication's annual conference with fellow scholars from Russia, Afghanistan, Sudan and Yemen.
The panelists brought a unique perspective to the discussion that included international news journalists representing CNN, BBC and Aljazeera.
During the courtesy call Mr. Zarate shared how he intends to use the information and best practices learned through the experience to enhance COB's journalism program.
Chargé Dinkelman applauded Mr. Zarate for his efforts to inspire The Bahamas' next generation of journalists and expressed the U.S. Embassy's continued commitment to supporting Bahamian educators and journalists through USG-sponsored training opportunities and exchanges.