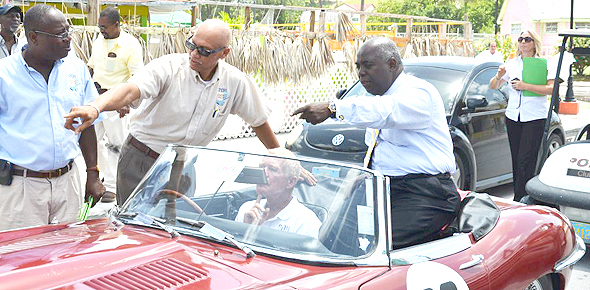 Nassau, Bahamas — Long before the checkered flag is waved and some of the world's fastest, hottest cars blur past, Bahamas Speed Week's economic impact is gearing up with nearly a dozen local businesses being fueled by event-related contracts for everything from catering to bleachers, sanitation to logistics.
"We are committed to ensuring that Bahamas Speed Week extend beyond recreation to the creation of spin-off economic benefits for the country and for local businesses," said Jimmie Lowe Speed Week President. "We're still three months out and we can identify a number of companies that are already benefitting or will benefit during the week of Speed Week activities.
Set for November 24-December 2, Bahamas Speed Week 2012 kicks off with a concert at Arawak Cay on Saturday evening followed by a Miss Speed Week Pageant Sunday. Some 60 classic racing and sports cars, including several belonging to local drivers, will participate in time trials, an island tour at speeds of over 100 miles per hour and a hill climb at Fort Charlotte as well as other activities and exhibitions throughout the week. The event, once the supreme highlight of Nassau's social calendar, was revived last year after a 46-year hiatus and this year's plans are far more ambitious.
For Alexandra Maillis-Lynch, whose company, Alexandra's, is providing all catering and coordination services for the VIP Paddock Club, Speed Week has spawned new equipment, office space rental and given birth to a related business — event management with a high-end twist.
"Speed Week is an exciting project that I hope keeps growing and growing, spilling over into other areas," said Maillis-Lynch, who expects to have a staff of more than 30 working during the event. As a direct result of Speed Week, she rented office space in historic Nassau, purchased new equipment — and most significantly, started a related business in high-end event management.   "I like major projects like this," she says, "I find it thrilling."
Crispin Cleare, whose company C Cube Seating, has the contract for bleachers to seat up to 5,000 spectators, a media platform and more than 25,000 square feet of tenting, said he'll have about two dozen workers on site throughout the event.
"It (Speed Week) is definitely keeping my doors open in terms of generating revenue," said Cleare. "I highly compliment Speed Week and their entire management team for believing in Bahamians and granting so many Bahamian businesses the opportunity to prove that Bahamians can do good work. This shows confidence in the Bahamian people as so many other companies and productions would outsource service companies instead." Cleare has signed a three-year contract with Speed Week. "Corporate Bahamian businesses should realize that by using Bahamian companies it would save them money avoiding traveling and lodging expenses and it would keep the money within the Bahamas which is a good thing."
Another contractor, Danny Ferguson, is returning for a second year with expanded logistics responsibilities.
"All I have to do," he chuckles, "is create a city within Arawak Cay." He knows it's serious business. Ferguson is the go-to guy for everything from police coordination to circles of tires, provided by Battery & Tyre, Centreville. He coordinates with the Ministry of the Environment, with the Ministry of Works for site improvements, paving, landscaping, lighting. He will be responsible for the track, the banners, the circuit, for human safety and for the security of rare cars, some of which are priceless. He coordinates with vendors, including companies like C Cube and the provider of Paddock Club furnishings, Oasis Chic Living, another Nassau company who will supply and staff the event. Ferguson is the point person for police.
Ministry of Tourism, which is a lead sponsor, is involved in every facet of Bahamas Speed Week. In addition to local resources, Tourism is employing all of its agencies and Bahamas Tourist Offices abroad to boost business in The Bahamas during Speed Week.
Arawak Cay vendors like Dwight Armbrister have been fixing up and looking forward. Armbrister has added a full wraparound deck to his restaurant, Dwight's Place. He's employed painters for weeks on end, has begun work on a second floor and last year, completely remodeled, re-furnished and air-conditioned in anticipation of Speed Week. Other vendors like Scott Saunders are making shirts, caps and other logo products.
Speed Week is even bringing more than a touch of glamour to the side of the industry best glorified by the TV commercial "Let's get serious about what happens in the bathroom…"
According to Bahamas Waste Management's President Francesco DeCardenas, the company is importing a marble and glass facility that gives new meaning to the term port-a-potty.
"It's more like a spa," says DeCardenas, describing the 40-foot trailer being imported. Bahamas Waste will have about 10 workers present to handle the less glamorous side of all solid and liquid waste removal.
Bahamas Speed Week is expected to drive up hotel bookings, taxis (most drivers don't drive those rare cars to the grocery store or coffee house), dining establishments, attractions, golfing and shopping. Bleachers tickets are $30. www.bahamasspeedweek.com And at the end of all the racing and car-related activities, a gala ball sponsored by Pictet Bank & Trust will raise funds for four Bahamian charities through its Auction of Promises. This year, for the first time, it will help fund scholarships.