>>> Bahamas Consul General Takes Junkanoo Carnival on U.S. Tour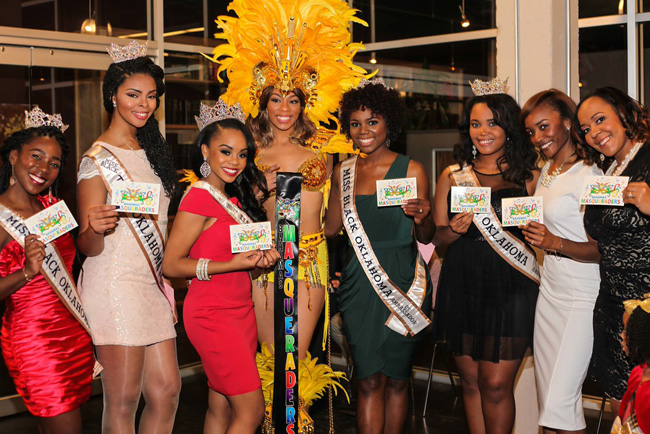 ATLANTA, Georgia – Americans are getting a taste of Junkanoo Carnival now that Bahamas Consul General to Atlanta, Randy E. Rolle and his office has exposed the cultural expression at various US events.
In recent weeks, models wearing costumes from Bahamas Masqueraders have accompanied the Consul General to several major events including tours of states such as Oklahoma where Junkanoo Carnival hit the airwaves while beauty queens lined up to pose with a masquerader. Bahamas Junkanoo Carnival was also a favorite at this year's Trumpet Awards where well known celebrities such as Cynthia Bailey, basketball great Dikembe Mutombo and child actress Quevazhane Wallis plus leaders such as Ambassador Andrew Young, posed with models and inquired about the event set for May 2015.
"I have many opportunities in the states that I work with to visit and I thought it would be a wonderful idea to show them, instead of tell them what Junkanoo Carnival is all about," said Rolle. "Everywhere we go, it has been a tremendous success. Everyone wants photographs with the models and everyone wants more information, to the point where we were asked to set up a table or have an extra person hand out literature on Junkanoo Carnival. Based on the response we've been getting, people are considering making the trip to be in The Bahamas for this event."
Rolle said that while Bahamas Masqueraders is the only band that is working with him at the moment, he is eager to work with other groups.
"I am extending an invitation for those who would like to have exposure through my office to the states within my jurisdiction to please get in touch with us and let's make it happen," said Rolle. "Right now as winter is winding down, people are thinking about their options for spring break so let's give them a reason to see why it is better in the Bahamas and allow them to join in Junkanoo Carnival."