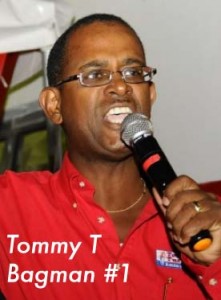 BREAKING NEWS COMING INTO BP indicates the staff at the Broadcasting Corporation of the Bahamas is mongrelising the place. We can report there is madness and mayhem at the corporation.
Today workers blocked the vehicle of Chairman, Michael Moss, and commandeered the newsroom. We are told all news reports were destroyed and sound bytes removed. We can report the workers have gone mad, destroying property and removing items. News was late and lasted for only 5 minutes, with no inserts. We are told police are all over the place.
The people are demanding that Hubert come and address them himself!
TOMMY TURNQUEST SPELLS FAILURE IN THE SPHERE OF POLITICS!