Read into the account what really went down inside that Emerald Bay home invasion – why has the wutless media in the Bahamas not sought an interview with anyone inside the home?
And could this murder be an inside job on a man who was set to inherit his father's vast wealth? Hours passed before police were called…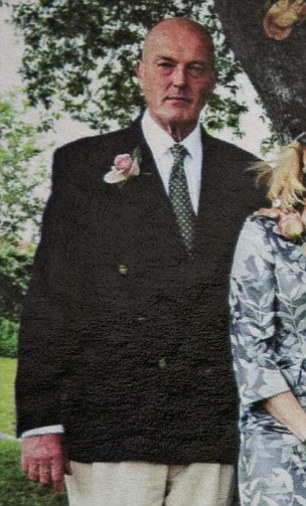 By Padraic Flanagan
The family of a British man shot dead in front of his 13-year-old son in the Bahamas have described the crime-hit islands as "a dream that turned into a nightmare".
They are urging the authorities to act to stem a tide of gun violence against wealthy residents and holidaymakers on Grand Bahama where six people have been murdered so far this year.
The latest victim was Edgar Dart, 56, who was gunned down in front of his family during a struggle with three masked and armed raiders at his mother's luxury home on the island.
The wealthy farmer had challenged them as they were threatening his teenage son George and five relatives after breaking into the sprawling property at Emerald Bay early on Tuesday.
With Mr Dart dead, the killers used duct tape to tie the rest of the family up – including his 79-year-old widowed mother Joy – before ransacking the villa and fleeing with cash and jewellery.
Mr Dart's brother in law Philip Poole, 58, said his 29-year-old son Pip was among the victims and suffered wounds when he was attacked by a gang member with a machete.
He added: "This is the sixth murder they've had there this year and something has got to be done about it. We've got to put pressure on the authorities to stop what's happening because it's an absolute tragedy.
"It used to be an island paradise, really idyllic, but it's not like that any more I'm afraid and the authorities have to share in the blame. For our family, it's a dream that's turned into a nightmare."
Police confirmed that the death was the sixth murder on Grand Bahama this year, with 30 for all of the Bahamas, an island chain just off the southeast coast of Florida.
Mr Poole went on: "Crime is on the increase on the island but they try to hush it up because it's bad for business. But if they want a healthy tourist trade the best thing they can do is not have it happen in the first place.
"If they want to keep the Bahamas as a haven for holidaymakers and retirees and the banking industry, then they've got to get themselves sorted out."
The Dart family home on Grand Bahama is near the city of Freeport, and belongs to Joy, who retired to the island in 1996 with husband Colin, a Devon entrepreneur who died at the age of 84 of cancer in December.
The farmer and businessman had made his fortune as a fruit and vegetable wholesaler, packaging pre-washed produce for supermarkets after inventing his own potato-washing machine in the 1950s
Mr Poole said: "The house is really quite palatial, with beautiful gardens. Colin and Joy put a lot of time into making the house what it was. They were big friends of the Bahamas."
He went on: "Edgar was just like his father. They were both big men, terrific guys, larger-than-life figures really. It's terrible to think about what has happened and what Joy must be going through.
"Apparently, when the men burst into the house Edgar remonstrated with them. During a struggle the gun went off. The gang then tied everyone up, including Joy and George, and ransacked the house."
Edgar's brother Colin, 55, his wife Alison, in her 50s, and their 15-year-old son Luke also witnessed the murder. They were believed to be travelling back to Britain.
Mr Poole, from Canterbury, said: "Alison managed to finally free herself and raised the alarm but nothing could be done for Edgar, unfortunately."
Mr Dart's 57-year-old sister Virginia Redfern, from Exminster, Devon, was flying out to the Bahamas with her husband Clive to comfort her grieving mother.
Teenager George is understood to have been taken by his mother Adele back to the family's farm in Winnipeg, Canada, where Mr Dart had emigrated to 16 years ago from Topsham near Exeter.
"The family had all arranged to get together in the Bahamas for the Easter holidays to help Joy settle back in after the death of her husband," said Mr Poole. "I just cannot believe that something as horrific as this has happened."
Assistant Commissioner Emrick Seymour, of the Royal Bahamas Police Force, said three robbers tied up family members with duct tape and Mr Dart was shot during the ensuing struggle.
The attackers had apparently cut phone services to the house before the attack, and fled in a gardener's van. No suspects were in custody, he added.
Assistant Commissioner Seymour said: "We are right in the middle of our investigation into this situation and we are following some leads."
Two months ago the US embassy warned that "a number of US citizens had fallen victim to armed robbery and two had been murdered in the last eight months".
The most recent victims were two American tourists visiting Jaws Beach in the western New Providence area. They were mugged by robbers armed with assault rifles.
Despite a population of just 50,000 on Grand Bahama, with 370,000 for the country in total, crime on the islands is so prevalent that acting president Philip Davis was robbed at gunpoint during a break-in at his home last December.
Mr Poole said: "The Americans manage to put an advisory out about the crime situation. But why is it that the local population don't get to know about this stuff? It's something that needs to be sorted out."
The Foreign Office said it was aware of the death of a Briton in the Bahamas and was providing consular assistance.