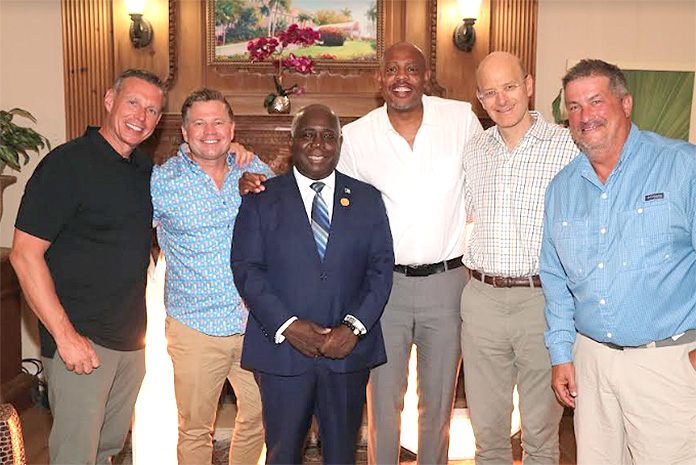 NASSAU, The Bahamas – While addressing the Bahamas Chapter of the Young Presidents' Organisation (YPO), on May 25, 2023, Prime Minister and Minister of Finance the Hon. Philip Davis noted that his Government was committed to partnering with the business community in creating an enabling environment for companies to thrive.
"We are more than ready to meet you halfway and work collaboratively to tackle the challenges you face as entrepreneurs," Prime Minister Davis said, at an event held at the Balmoral Club.
"One area of focus for us is improving the ease of doing business and so we especially welcome your suggestions and insights, as individuals who deal with such challenges on a daily basis," he added. "I also invite you all to read and submit feedback on the green paper on Corporate Income Tax Strategies, available on the Ministry of Finance's website.
"We are keen to facilitate a thorough consultation process prior to undertaking any policy action, and, so I encourage you all to share your thoughts and take a stake in the fiscal future of this country."
Prime Minister Davis stated that, as established businesspersons, there was yet another way they could contribute to streamlining and energising commerce in The Bahamas; and that was through mentorship.
"There is no time like the present to mentor the next generation of Bahamian entrepreneurs," he said. "It is up to us to work together and invest in our young men and women, by teaching them vital technological skills and sharing strategies for innovation.
"In this way, they will be all the more prepared for the opportunities and challenges of the digital age."
Prime Minister Davis noted that young professionals were drivers of change, and they will soon be leading the charge in advancing The Bahamas' economy.
"With this in mind, let us commit to creating the right environment for their success," he said. "YPO is already well-equipped to do this, as a generational organisation which facilitates the transition of older members to the World Presidents' Organisation. Leveraging this continuity is paramount, so that the wisdom of outgoing members is not lost on younger generations."
Prime Minister Davis noted that the 60-member strong organisation represented some of the nation's "most outstanding leaders".
"From Felix Stubbs of IBM to Myra Lundy-Mortimer of PwC and Nicolas Rees of Kanoo Pays, this truly is an impressive cohort of enterprising professionals," he said. "It is, and I say this unequivocally, truly heartening to bear witness to a community so driven and so zealous in its pursuit of excellence."
"You and the enterprises you lead form the economic engine of this country, and for your contributions to Bahamian commerce, I say thank you."
Prime Minister Davis pointed out to that entrepreneurship was not just about business.
"It is a vital driver of national development, spurring innovation, creating jobs, and bolstering our economy," he said. "Your efforts have been instrumental in animating the Bahamian economy and will remain crucial as we forge a more dynamic and vigorous commercial ecosystem for The Bahamas.
Prime Minister Davis pointed out that, for its part, his Government was aiming to strike a balance between generating revenue to support public services and shaping "an attractive environment for businesses to grow and thrive".
"We are entering a new fiscal year, and we understand that there may be concerns about the direction of the government's fiscal and taxation policy," Prime Minister said. "But rest assured, we have your best interest at heart. With every decision we make, we put the wellbeing of
Bahamians first."
For that reason, Prime Minister Davis said, his Government was gearing up to create a Large Taxpayer Unit, to vastly improve client service for the firms contributing to the bulk of the government's revenue. He added that his Government had invested heavily into creating a seamless interface for such payments, as it recognised that each taxpayer was special and deserving of the best his Government can offer.
"The Large Taxpayer Unit will thus not only streamline tax payments and guarantee fair and courteous treatment for all taxpayers; but, in turn, it will also increase compliance and overall revenue for the government," Prime Minister Davis said. "A win-win situation, my friends, for us and for you."
"So, members of YPO Bahamas Chapter, rest assured that the government is here for you," he added. "Your leadership is recognised, and your input is highly valued.
"Let us partner together to nurture a resilient economy, and foster the entrepreneurial spirit of The Bahamas."
Prime Minister Davis noted that it was often said that good business – and indeed a good life – was all about building relationships.
"In light of this, and in the spirit of camaraderie which this year-end social embodies, I invite you to all seek out new connections with your fellow members," he said. "Who knows, tonight may be the start of a life-long professional relationship, or the beginning of an exciting friendship."
"As Prime Minister, making connections is at the heart of my work," Prime Minister Davis said. "To deliver for people, I need to get to know them first, and figure out what they need. Connecting with the diverse communities which make up this archipelago is thus not only a pleasure, but a duty."
"It is, after all, only by establishing relationships with the citizens I am honoured to serve, that I become a better representative, a better politician, and a more empathic human being," he added.  "So, ladies and gentlemen, cultivate connections with those around you, and you will live a flourishing life."