Thieves and Rogues at NIB Part 3 – Cargill Buddy Paid 400%
Nassau, Bahamas — When they aren't busy rejecting claims filed at NIB sources tell us management is all over the place squandering public money. The heat now coming down on the Ingraham Government over the spending splurges at the National Insurance Board now echoes around the country with a call for an OPEN INVESTIGATION!
Bahamas Press' probe into NIB has uncovered serious, SERIOUS breaches in the systems of expenditure now underway at its headquarters on Blue Hill Road.
Another charge raised in the Parliament on NIB on Wednesday by former Minister Shane Gibson, involved the purchase order of electrical supplies requested at a hefty price tag.
In response to the claims director Algernon Cargill said, "I have no idea of an item that was purchased by NIB for over $60,000 where the average bid was $13,000. I've never even heard of this." The director's response to this was swift, short, blunt and telling. And we know why.
Your Bahamas Press therefore, decided to dig hard into this and uncovered an order, which wretched-up this huge $60,000 bill. The items in question included electrical supplies ordered by NIB from Kenuth Electric.
Documents seen by Bahamas Press show the company was given the contract to provide NIB with lighting rods, which regularly amounted to $13,000 in past purchases. Nonetheless, NIB paid over $60,000 for the item as a price tag marked up by 400%. And that's not all.
Additional files on the books and in the systems at NIB tell us the electrical company almost every month is the sole provider of electrical supplies being ordered by NIB. So when did this 'sensual love affair' with NIB begin?
Kenuth Electric on Harold Road is owned and operated by Kenuth Knowles a dear longtime friend and "buddy" of Cargill. When the director joined NIB sources say, so did Knowles' company. In fact, invoices on the account payables at NIB showed Kenuth practically collects a cheque from NIB every month for frivolous items not needed at the Board's head office. Invoices by Knowles' company continue, we understand, to flood the account payables department.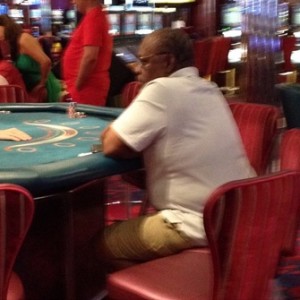 So why squander the people's money like this? Especially when hundreds of benefit claims are being denied by the country's social security bank.
Bahamas Press searched a background of this "couple" wh0  frequently travelled together. Cargill and Knowles are travel buddies, amigos, compadres that go back to Cargill's days at CIBC. They both journeyed regularly to Florida together for fun and frolic. In those days, it was common to travel to the big USA for sensual pleasures of carnal delights and lusts. So we are not surprise to hear Knowles with his feet in the door at NIB along with his longtime buddy of the past.
Therefore, it is not strange to hear the minister of NIB, Prime Minister Hubert Ingraham, order and direct the management team to respond to the claims made in the House of Assembly.
Ingraham knows as we do, something has gone wicked at the Board and changes are imminent.
Bahamas Press continues our probe into NIB this Sunday, when our finding will take us near the altars. We invite NIB to go to Church this weekend.