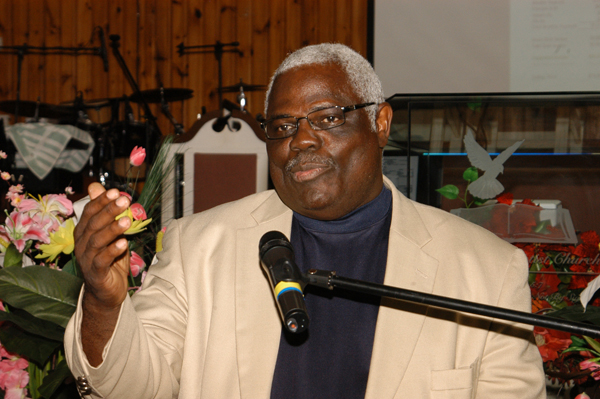 <<< Kenneth Russell, former Minister for NIB left a cloud of secrets behind. He brought his 'buffed roommate' in NIB as a consultant and channeled contracts from NIB to him. Bahamas Press is probing National Insurance and is set to post more question to Hubert Ingraham.
Nassau, Bahamas — Something sticks to the core of hell and when we look into that core, we see sitting the headquarters of the National Insurance Board. Bahamas Press is calling for an open Commission to begin an investigation at NIB with relegated powers to prosecute.
While in speaking with local media in September this year Director at NIB, Algernon Cargill said, "The fund is strong… rest assured that everything that must be done, will be done [and], in fact, is already being done, to ensure that NIB will never go broke." His statements came on the heels of an actuary report indicating the fund was indeed headed for financial trouble if serious changes were not made soon.
"It's a possibility," Cargill said, but this would not happen and points to efforts like NIB's crackdown on delinquent employers, which he noted in the interview have already started to bear fruit.


Nevertheless, Bahamas Press has been scaling the walls at NIB for some time now, and what we have uncovered is indeed incredible and SCANDALOUS! Huge payments are now being made to unemployment beneficiaries [30,000 cheques] death benefits, sick benefits, a now growing aging population relying on the fund's pension scheme are just a handful of NIB's payout.
Millions in bad government investments and loans continue to rack up at the Board. Yes, Pindling's 'pride and joy' now have him restless, and here's why.
Can the huge payout by NIB be sustained when fewer employers are paying contributions [INCLUDING SOME GOVERNMENT ENTITIES] and fewer contributors exist due to rising unemployment now nearing 20%? Added with all this, the spending splurge by NIB management has kicked into overdrive?
Bahamas Press has some knowledge of what is going on at Sir Clifford Darling Complex, and we have more to tell. On Wednesday, Shane Gibson spoke about NIB's wastage on security at the old Buena Vista property. We understand the property was purchased by under the Christie government and was left to further rot in the dust.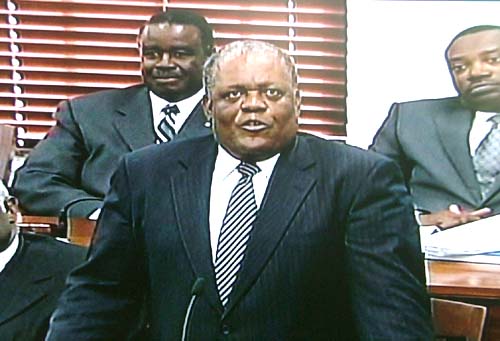 When Kenneth Russell took charge of NIB, he contracted a security company to keep watch of the dilapidated building. Cargill said in his press statement late Wednesday evening, "Vandals and thieves have been taking off with valuable copper, windows, etc., and vagrants have been squatting there. It is the plan of NIB to renovate, restore and preserve the historical building, and so, to protect the asset of the Board, we have engaged a security firm to safeguard the property, and we have done so at competitive rates covering the period from 7p.m to 7 a.m. each night." What Cargill failed to tell us the people whatwere the cost to hire that security company.
And so again we ask the Minister with responsibility for NIB to disclose:
Who were the bidders for the security contract to secure the Buena Vista property?
Did a Bidding process to indeed take place for securing the dilapidated abandoned building?
How many security officers are now engaged at Buena Vista daily?
And what is dollar value of the contract to secure the Buena Vista property?
Bahamas Press has learned that A- 1 Security firm owned by, Charlton Morley, is the company being paid $24,000 per month by NIB to watch the old Buena Vista building. Now imagine that, once a security officer working 12 hours a day and the company is PAID A WHOOPING $24,000 each month [$288,000 a year]. WHY?
Morley we know is a senior council member of the Free National Movement. He is a crony of Hubert Ingraham. We've heard of security firms being paid $5,000 – $10,000 per month, but $24,000 for one man and a car to be parked by the gates of Buena Vista for 12 hours? They think we fool 'eh'? The money at NIB must be endless in the volts at NIB!
Perhaps had NIB used its consultants like the 'Buffed Roommate' wisely and got sound advice from him, by now they would've asked persons receiving NIB unemployment benefits who formerly worked at firms to carry out the needed work of securing Buena Vista. Imagine that, 4 security staff paid $210 per week each. That would work out to be $3,360 to employ 4 people per month. However, Ingraham believes we still live in the trees, and Cargill believes paying tax dollars of $24,000 per month to an FNM goon makes sense. Hmmmmmm! NIB is  a – political my foot.
Well, Bahamas Press has more to go and all we tell NIB is this; our PROBE into the mounting CORRUPTION at NIB takes us across some electrical wires. We will continue tomorrow.