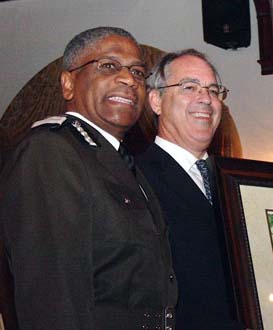 <<< Director of Immigration and appointed returning officer in the Elizabeth by-election Jack Thompson seen here just weeks earlier at a ceremony at Government House with his immediate boss Brent Symonette. Hmmmmmmmm.

Nassau, Bahamas — What could it be, which caused the returning officer for the Elizabeth by-election to be seen staging home drunk as a bat on Friday?
Bahamas Press' eyes on the ground can report Director of Immigration, Jack Thompson, was seen being led into his car and driven home drunk as a bat over the weekend. What could be the cause to Thompson's drunken stupor?
Sources close to Jack Thompson said Hubert Ingraham handpicked him as returning officer for the Elizabeth by-election. BP believes Thompson is now being hammered by his conscience as he rejected three lawful ballots cast in favor of PLP candidate Ryan Pinder in the marathon election recount.
Readers should note had the ballots been accepted Pinder would have won the election on the white ballots by one and on the yellow by six votes.
Cabinet Ministers sitting in the room during the recount led a fierce attack on the additional ballots being accepted and insisted that the ballots should not be counted as they intimidated Thompson to reject them.
Thompson who is never seen in public drunk was lead home in the late night hours. He is a broken man. Look what they've done to the Christian gentleman.
We need Change!