Where in the Bahamas we does make these weapons?!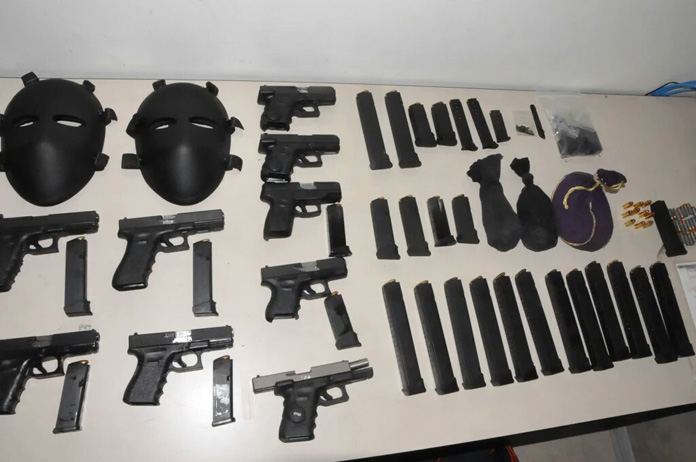 Nassau, Bahamas — When good police intel can track criminals down like this, you gatta give it to the Royal Bahamas Police Force, and then question why would anyone grant these people bail or levy such small fines after them being caught with this kind of deadly lethal instruments!
We know it is the criminals' intent to continue the massacre on our streets! But what do we do? Give the crooks bail or blame some officer or politician for the country's woes, as we allow the gunman to continue – unreformed – creating terror in the country?! This is Unbelievable!
Just yesterday on the island of Grand Bahama, a combination of excellent police work and swift action by officers on that island led to the arrest of three adult males and an adult female believed to be part of a major firearm trafficking ring.
Get this: This group was found in possession of nine (9) illegal handguns along with a large amount of ammunition and several bullet proof vests. All they need now are some rocket launchers and the eyes of the world would being to ask us who are furnishing these criminal bandits with such sophisticated deadly military hardware?
Newly made weapons headed for the streets of the Bahamas exported from only the GOOD MASTER knows where! What is this!
The suspects now in custody will be brought before the courts. Let's see just how weak the system is now and watch these JACKASSES get bail and or a fine!
Again we at Bahamas Press ga say: Excellent Police Work!
We report yinner decide!