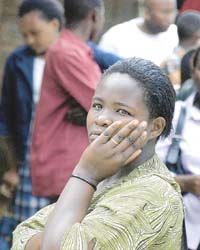 >>>The face of another robbed worker here in The Bahamas. (FILE PHOTO)
CLICK TO DOWNLOAD: The 2007-Clico-Bahamas-annual-report

Nassau, Bahamas: Joe Public (identity withheld) is a government worker who lost more than $50,000, his entire life saving, in the collapse of Clico (Bahamas). Public held an annuity investment in the insurance giant. BP readers should have seen him today.
"I was speechless when I heard of the liquidation. All my money gone just like that. I mean…you mean to tell me no one could have warned us?" he said.
Public's tearful cry can now be heard by just over 30,000 policyholders at the failed insurance giant. This latest incident reminds us at Bahamas Press of a question we posed some weeks back, "WHO IS SPEAKING FOR US?"
Once again Bahamians are robbed in a dirty deal. OLD PENSIONERS now home, with all their entire LIFE SAVINGS gone south, literally! And where are the managers of the people's asset in all this? Well Hubert and his son "THE CRY BABY" say don't blame the government, the government had nothing to do with this. And then there is Perry 'PUSSY CAT' Christie, the former minister of finance, and his minister of state JAMES SMITH, the current Chairman at ColinaImperial, all quiet after the collapse. NOT A WORD DO THEY SAY! Hmmmmmmmmm!!
It was under the PLP government when all the Bahamian people's money went out of the country as a LOAN to CLICO's parent company. ALL the people money was invested in the now failed Florida realestate market. Yeah people Hubert ain't ga tell ya nothing, but ya money GONE!
Someone says the people got what they deserved, however we at Bahamas Press don't believe that. The people simply has NO ONE, NOT A SOLE IN THE WUTLESS MEDIA OR GOVERNMENT, SPEAKING ON THEIR BEHALF ANYMORE! Where are the freedom fighters of this country? Are we soo quick to throw anybody into the seat of power, that we can careless about our future? This is a sad state of affairs now unfolding in the Bahamas. Mama and her son invested all that money in the country's financial system, and the company has failed, CHRISTIE GONE DUCKING! INGRAHAM SAY DON'T BLAME US!
Well someone has to be responsible for all that money vanishing out of the FIRST CARIBBEAN BANK ACCOUNT OF CLICO!
Here is what we've just learned. Bahamas Press has attained the 2007 financial report of CLICO BAHAMAS LTD. The report was done by Deloitte and Touche. In the auditors comments of the December 2007 report they noted that CLICO performed well in the given year.
They reported that premiums had increased by 40%. Annuities had increased by 110%. That policyholders had increased by 31% and overall profit in the Bahamas by 55%. Yes, there was plenty good news spilling over from the insurance company's books. But then there on page seven (7) is a NOTE BY the AUDITORS. The point was shared by Hubert Ingraham in the House of Assembly.
The auditors noted that CLICO had allowed advances (LOANS) to its parent company in the amount of $57,010,248. The auditors also noted that this LOAN represented 59% of the company's total assets.
Now this is no new news, but if you look at this pile a money leaving each year from 2004, RED FLAGS SHOULD HAVE WENT UP LONG AGO. So here is the question, WHAT OTHER COMPANY HERE IN THE BAHAMAS IS PRACTISING THE SAME? What companies? Where are these monies headed? Why did not the Central Bank see this as a cause for a RED FLAG? And if they did take action, what were their cautions to CLICO?
The Central Bank need not tell us Bahamians that the system is sound, because every Bahamian even JOE PUBLIC and Lil Mama who is now OUT OF MONEY – because of CLICO's collapse – knows, money cannot be safe in this town. Especially when the leaders HIDE and the rest of the regulators GO SLEEPING AT THE WHEEL.
OUR QUESTION AGAIN, WHO IS FIGHTING FOR US, BAHAMIANS? Think about that question again.