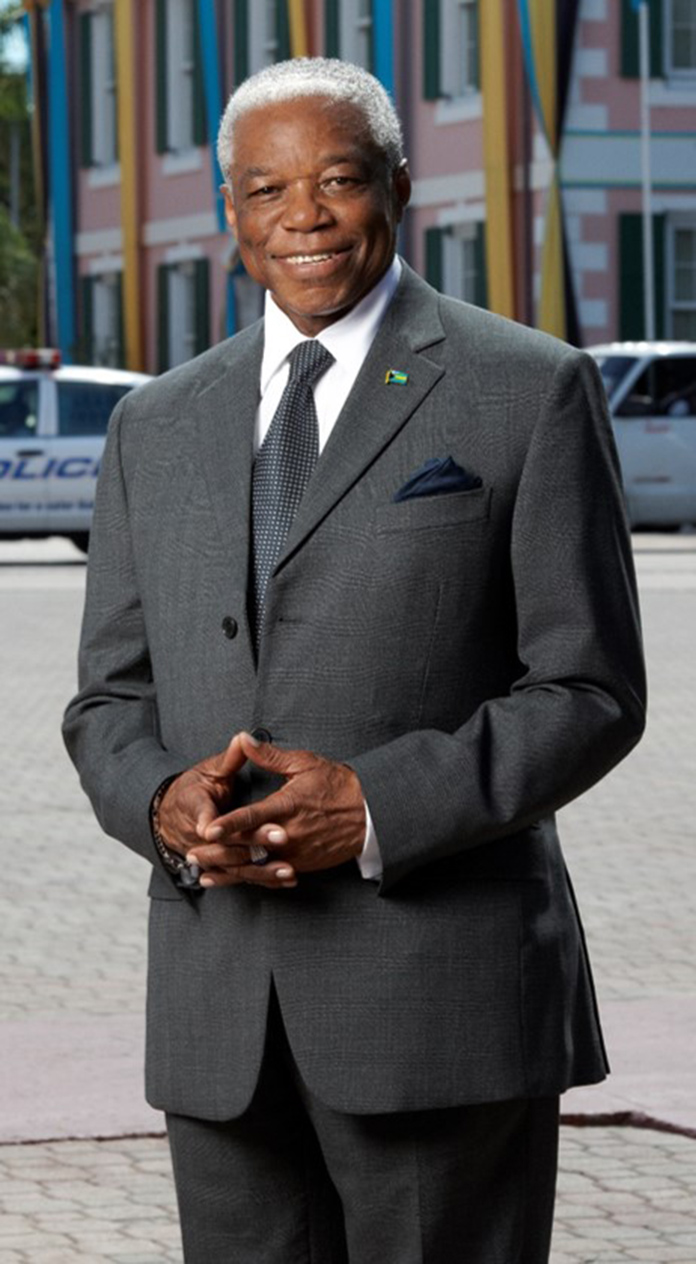 Condolences
By Hon. Philip "Brave" Davis, Q.C., M.P.
Interim Leader of the Progressive Liberal Party
Leader of Her Majesty's Loyal Opposition
at the
Memorial Service for The Late Dr. Hon. Bernard Jonathan Nottage, J.P.
Sir Lynden Pindling Centre
Farrington Road
New Providence, The Bahamas
Tuesday, 11th July 2017
Salutations
Good Evening.
This evening, I have come to offer the family and friends of Dr. Bernard Jonathan Nottage – B.J. – my deepest condolences. A husband, father, brother, chief political warrior, friend, colleague and policymaker has left us. I grieve with all of you. The Progressive Liberal Party grieves with all of you.
So many aspects of BJ's life have been celebrated since his passing. He was a giant in sports development, the medical profession and politics. As such, his footprints will forever be etched on the Bahamian landscape.
Much has been said about his service as President of the BAAA's; President of the Bahamas Medical Association and Doctor's Union; Member of Parliament for the constituencies of Kennedy and Bain and Grants Town; Senator and Cabinet Minister in several Ministries including Consumer Affairs, Education, Health and National Security.
Dr. Nottage was the ultimate political warrior and patriot par excellence, offering of his talents in public service, within service groups, and in nation building right up to the time of his passing.
He fundamentally believed in the ideals of the Progressive Liberal Party, the party in which he served for the greater part of his political life.
Through leadership struggles, a temporary parting of ways and through reconciliation, the principles of social justice, economic justice and a sense of fair play and a level playing field always dominated his political philosophy.
The Progressive Liberal Party and the nation by extension are better for his unselfish contribution to national development.
BJ's most recent assignment in Government was his most crucial undertaking. As Minister of National Security, he launched the Citizens Security and Justice Programme in partnership with the Inter-American Development Bank. This programme aims to target the complex and diverse factors driving crime in The Bahamas in addition to the establishment of a national parole system.
I pledge to do all within my power to ensure that his brainchild, the "Renovating Bains and Grants Towns (RBGT) Initiative", takes root. This Initiative aims to increase home ownership, create job training programmes, set up a fee waiver for students sitting national examinations, and establish a Community Council. It would be a fitting honour for him.
Early in his diverse career, B.J. chaired the organising committee for the first international athletics event to be held in The Bahamas. Its success is unquestionably the basis for all other international events for our country. This weekend, we will host the Commonwealth Youth Games. This is a testament to his belief in the capacity of our island nation.
An accomplished physician and runner, BJ lived his life with passion and purpose. Even when confronted with illness, he challenged it with courage and determination. Literally and figuratively, he ran life's race and he finished strong.
For us as Christians, we know that the day will come for each of us to finish life's race. St. Paul, in his 2nd letter to Timothy, draws three images related to athletics. "I have fought the good fight." "I have run the race." "I have kept the faith."
It is easy to begin a race. It is easy to run hard for a few miles. But it is much harder to finish a long distance race, and harder still to finish strong.
BJ was an exemplar on and off the track, beyond the delivery room and operating theatre. As a policymaker and a nationalist, his life's work demonstrates that he was up to a marathon-type challenge and beckons us to run well, to keep pace, to stay focused and to finish strong.
Beyond, running and finishing, BJ kept the faith…he ran his race according to the rules. In all spheres, he pledged to compete honestly and honourably. So, here we are today. BJ, at the end of his race, we can affirm did just that. His race was long, sometimes lonely, often difficult, and demanding, but he was the ultimate warrior –a trusted ally. We find comfort in his passing because we know that his was a life well lived.
"Now there is in store for me the crown of righteousness, which the Lord, the righteous Judge, will award to me on that day – and not only to me, but also to all who have longed for his appearing."
For all of us, we may feel pressed and pressured on every side. We may feel that our challenges are relentless. Yet, we have the hope and assurance that we can have the peace of God in our lives.
BJ loved God. He loved his family. He loved The Bahamas. He loved the PLP.
The story of Eric Liddell, the 1924 Olympic 400 meter gold medallist, is widely known through the 1981 Academy Award winning film Chariots of Fire. He too was committed to "run for God and let the whole world stand in wonder".
As you and I run the race, as we accept the baton that has been passed to us, let us set aside time to reflect on our running.
BJ has left for us a tremendous model of perseverance. Fight the fight, run the race and keep the faith. With God, we have no alternative other than to run well and finish strong!
This is a time of profound testing of your faith. With the rest of the family, and like all of us, you are called to reflect on death, judgement, and the larger life beyond the trappings of mortality. For us as Christians, we have hope that death is not an ending, but an opportunity to embrace that which is promised to us…eternal life.
In his walk of faith, B.J. loved profusely – God was central in his life. He held firm to that Rock. In his personal life, B.J. loved his family and did all that he could to ensure that they knew it. Portia, B.J. loved you to death! In his professional life, he fought zealously for what he thought was right.
Ladies and Gentlemen
Whenever anyone passes, it is a sad occasion. When one who was so well-known, so well-loved and so well-respected by many all over The Bahamas and the wider world passes, it gives us even greater cause to pause to reflect on his life and times. This affords us an opportunity to take away something of his life and store it in our collective memories.
As his Parliamentary and Cabinet Colleague, I am honoured to have served with BJ. His thorough, methodical, detailed and deliberate management style served me well in public life. I cherish our professional relationship and friendship.
I am, therefore, privileged to be able to stand today and offer our gratitude to him and to his family for the sacrifices that they made for the Progressive Liberal Party and of the building our modern Bahamas.
In respect of Dr. Bernard Johnathan Nottage, a man of his time, a man for all times, a man for all seasons; I am also privileged to offer the final salute of this great party.
May the angels lead him into paradise; the martyrs come to welcome him and take him to the Holy City, the new and eternal Jerusalem. May his soul rest in peace.