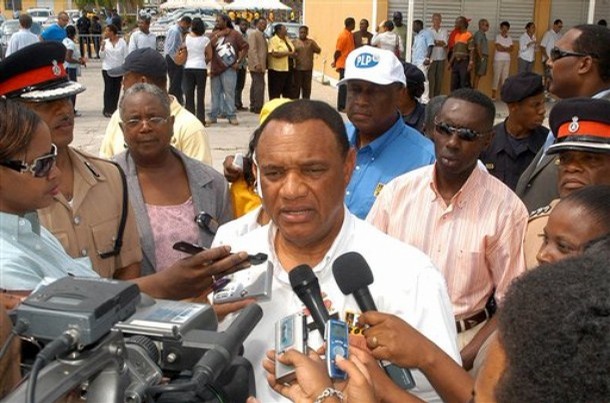 Perry Christie speaking with reporters, hours before the people of The Bahamas Fired him and made him the nation's first ONE TERM PRIME MINISTER!
Bahamas Press asks a question that shot like a bullet across the bow of the SS PLP. We asked "WHERE IS THE PLP WITH THE COUNTRY SINKING IN TURMOIL?" The PLP appears to be busily distracted, OUT TO LUNCH! LAZY, WUTLESS and to put it in the words of Hubert Ingraham, "ASHAMED"! Ashamed of being returned back to opposition serving as the FIRST ONE TERM GOVERNMENT of The Bahamas.
Students of Bahamian history all know now that Perry Christie will go down in the annals of time as, 'DA SHUFFLER', 'Mr. LATE AGAIN' and The Bahamas' first one term Prime Minister . And if the party allows, will serve as opposition leader for a second term.
It appears that PLPs and members of the WULTESS media in The Bahamas have forgotten the RECKLESS LAZY leader Perry Christie was after he entered politics in 1977. Bahamas Press will remind our readers of this sad thirty year record, as we walk back in time and present to you, 'Christie's Ministerial Record' under the Pindling years. And we will answer the questions, why did the People of this Country FIRE the PLP? And ask how is it the PLP has still not yet FIRED CHRISTIE!
Tune to Bahamas Press at 3PM Sunday afternoon as we expose the one term Prime Minister of The Bahamas, and confirm the words of Hubert Ingraham as he told him in the House of Assembly, "YOU HAVE NO SHAME CHRISTIE!"