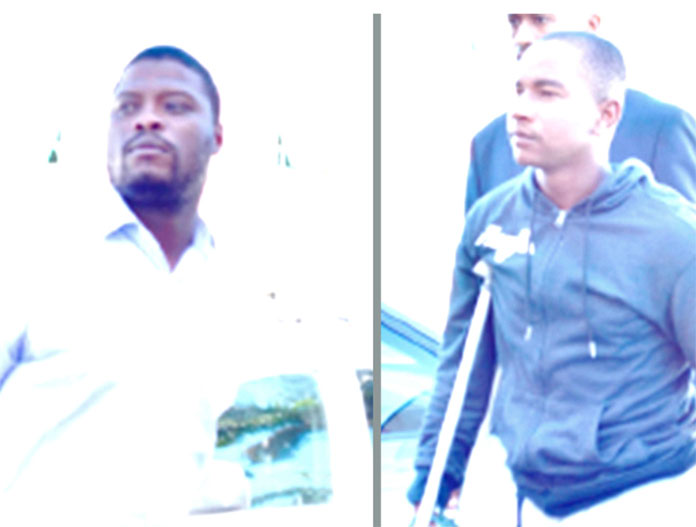 FREEPORT – On Tuesday morning, two male suspects from New Providence were escorted into the Garnet Levarity Justice Centre to be arraigned in Magistrate Court for the July 2018 John Bull Limited, at Lucaya Market Place, robbery.
Corradon Cockburn, 30, of Mangrove Avenue, New Providence, appeared before Deputy Chief Magistrate Debbye Ferguson in Magistrate Court 1.
He and 23-year-old Diego Carey, of Soldier Road, New Providence, were charged with conspiracy to commit robbery along with other unknown individuals.
They also faced other charges in connection to the John Bull Robbery which occurred on Monday, July 23.
The two men were accused of stealing 35 men and women's Rolex watches, and two Breitling watches, valued at about $427,520 in total.
Cockburn was also charged with possession of proceeds of criminal conduct.
The prosecution alleges that on July 29, 2018 in New Providence, he was found with $21,281 cash in mixed U.S. and Bahamian currency, that directly or indirectly represented his and another's proceeds from criminal conduct.
Carey was also charged with receiving.
Allegedly, on July 31, 2018, he dishonestly received five Rolex watches valued at $58,400, which were the property of John Bull Limited and were appropriated by an offense.
Magistrate Ferguson gave the suspects a choice of having their matters heard in the Supreme Court or Magistrate's Court. They both chose Magistrate's Court. Both men also pleaded not guilty to all charges.
During the arraignment, Carey was also using a crutch.
Ferguson asked him about the crutch and he responded that he broke his right femur while at his water sports business in New Providence over a month ago and had a metal rod and four screws placed into the leg.
Carey further alleged that while in custody he was not allowed to call his family and was "tortured" which further injured the leg.
According to the prosecution, however, if he was not permitted to use the phone he would not have been able to call lawyer.
He was represented by attorney Osman Johnson.
Carey responded that he only received counsel because his photo went "viral" on social media.
Johnson was not present at the start of the arraignment, but arrived shortly after.
Cockburn was represented by attorney Djorn Ferguson who, at the outset of the arraignment, also acted on Carey's behalf.
The attorney asked that bail be granted, however, Ferguson denied it as it was not a matter for her to decide. She did request that the prosecutors give both suspects bail applications.
All matters are expected to proceed by voluntary bill of indictment and the matters are adjourned to October 4, 2018. Both men were remanded to the Bahamas Department of Correctional Services (BDCS) until that date.
The popular John Bull Limited store was robbed by two individuals dressed as females on Monday, July 23 shortly after 10 a.m., in the Port Lucaya Marketplace.
Images and video footage of what is purported to be the robbery in progress surfaced and were circulated throughout social media. The alleged culprits appeared at the time to be wearing women's clothing, wigs and carrying bags, and appeared to be running away from the scene of the crime.
Shortly after they left the store on foot, they reportedly entered a dark colored vehicle, said to be a black Infiniti, which was recovered a short time later, abandoned in front of a residence on Sergeant Major Road.
There were no shots fired during the robbery and no one received injuries.