Both Perennial Losers Norris Bain and Byron Woodside could not get a nomination from the FNM!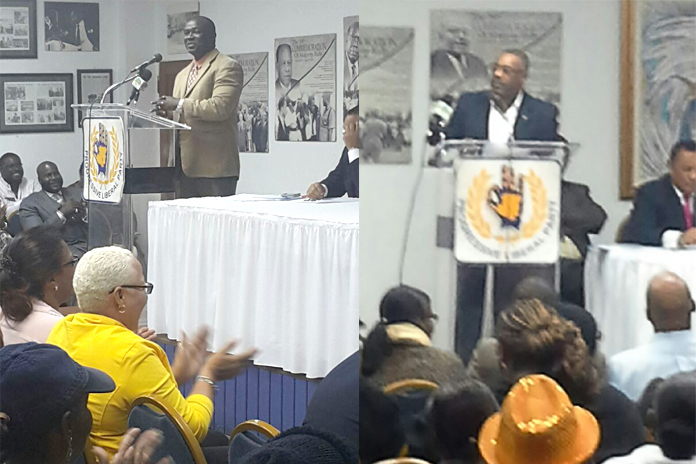 Christie takes two from INGRAHAM's POLITICAL SEWERAGE DUMP!!!!!
Nassau, Bahamas – While alerts were being circulating of a pending storm headed for The Bahamas tonight, down at the PLP's Headquarters loud claps and standing ovations were being made as Prime Minister Rt. Hon. Perry Christie welcomed to the PLP two former FNM rejects.
Byron Woodside former FNM MP for Pinewood and FNM candidate in Marco City Norris Bain presented themselves before the PLP National General Council as they declared themselves to have PLP!
Both former FNMs didn't have a chance in hell under Dr. Hubert Minnis to run as candidates as the FNM Leader is chapping down a block of his party as he creates a new brand in politics.
Woodside came under the PLP tent with his whole family with him declaring that he has joined the "Coalition of Progressive Thinkers" in the country!
Woodside, you would remember, went down in flames as the one-term MP for Pinewood after he was defeated by the current PLP Pinewood MP Khaalis Rolle.
Rolle tonight was asked to introduce the former rejected/defeated FNM who could not buy a nomination within his former party!
Word is Woodside might get the Bamboo Town seat for the PLP, which some speculated might go to the brother of Loretta Butler-Turner, Craig Butler!
What is sad in all this is that it appears as if PLPs have not learned from his past. While hundreds of young progressive thinkers stand ready to be nominated from inside the PLP, Christie 'dem' appears that they are hell-bent on making the same mistakes by searching outside the party to collect more 'political garbage' as they did with Andre Rollins and Renward WELLS!
Just last week PLP Chairman, Bradley Roberts, called Dr. Minnis' eight candidates for the general elections a scrap gang from Ingraham's political junkyard! Tonight we at BP call the PLP's newest members – two collected from Ingraham's defeated political sewerage dunghill! Boy I tell ya … if ya don't laugh you will cry!
It ain't long NAH!
We report yinner decide!