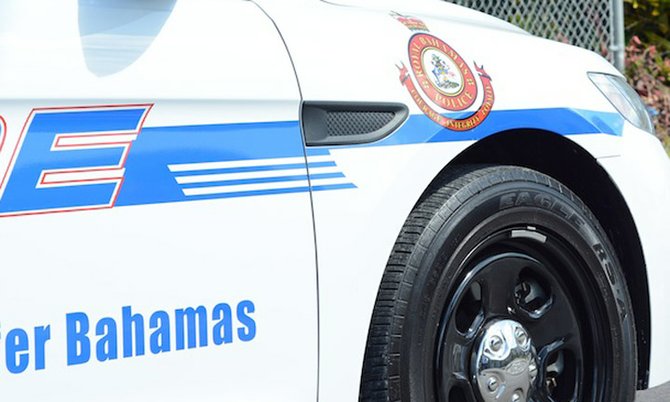 Nassau, Bahamas – Consistent with the Commissioner's Policing Priorities for 2017, police took two men into custody following the seizure of two handguns on Sunday 16th July 2017.
According to reports, around 12:30pm, Mobile Division officers were on routine patrol on Sapodilla Boulevard, Pinewood Gardens, when they saw two suspicious males driving in a champagne colored vehicle. The officers signaled to the vehicle to stop. However the vehicle drove off. The officers gave chase and vehicle came to a stop in front of a home on Jacaranda Street, where the driver exited and threw an object to the ground before fleeing on foot. The officers gave chase but were unable to catch the driver. However the male passenger was arrested without incident. Selective Enforcement Team officers then came to the assistance of the officers. The object was retrieved and found to be a .45 Pistol with 8 rounds of ammunition.
Police later took the suspect in custody to his home located off St. Vincent Road, where they conducted a search and found a Glock Pistol.
Then shortly after 6:30pm, the male driver of the vehicle who eluded police, turn himself in and was taken into custody.
POLICE ARE APPEALING TO THE PUBLIC TO SHARE INFORMATION ON ANY
ILLEGAL/SUSPICIOUS ACTIVITIES IN THEIR COMMUNITIES, NO MATTER HOW SMALL OR INSIGNIFICANT (THE TIP) MAY SEEM, MEMBERS OF THE PUBLIC ARE URGED TO ANONYMOUSLY CONTACT THE POLICE AT 919 OR CRIME STOPPERS AT 328-TIPS (8477) (NEW PROVIDENCE) OR 1-242-300-8476 (FAMILY ISLANDS)
WEEKLY PREVENTION CRIME TIP – If a crime occurs – report it!
Everyone should consider it his/her responsibility to report crime. Many criminals target favorite areas and have predictable methods of operation. When you report all the facts about a crime, it helps the police assign officers in the places where crimes are occurring or where they are most likely to occur. If you don't report crime, this allows the criminal to continue to operate without interference.
In many cases, it is the information provided by victims and witnesses that leads to the arrest of a criminal. So tell the police as much as you can; no fact is too trivial. The police need the eyes and ears of all citizens.