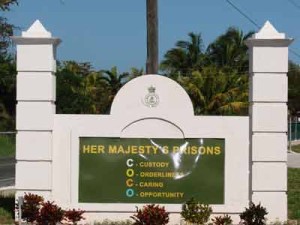 Nassau, Bahamas — Bahamas Press is citing a breach in national security here in the country as two criminals charged by the courts were once again put back into Fox Hill Prison after committing armed robbery while on bail with the anklet bracelet.
Now get this according to our sources up in Fox Hill, two men released on bail for committing similar offenses were returned to the slammer after being found in possession of stolen goods.
BP has learnt, sometime last week both individuals were connected to a crime in the South. One of the men went into a store and told the attendants he was armed with a weapon.
The robber showed the attendants at the store his ankle bracelet warning them, if they make the wrong move, they will be shot. The young man was later captured and discovered with the stolen property. But get this.
How did the men get out of their prescribed areas, if they were being properly monitored?
Sources high up tell us, the ankle bracelet is fast becoming a failure, and here's why.
We understand the contract was awarded to two Bahamians, who are fronting for a foreign group. But get this. Our investigations revealed the pair have hired young Bahamians, with no security or monitoring background, to watch on their home computer hardened criminals; some released on bail for murder.
Bahamas Press wonders, how are the criminals released on bail monitored, when BEC has disconnects the power supply from the private monitoring agent's home?
We wonder who is monitoring the criminal on bail done when the home-based internet systems go down.
We wonder who is monitoring the criminal, when the private individual hired to do the tracking is a relative of the murderer on bail, or is also from some crime family. WHAT NEXT?
Electronic Bracelet Monitoring is a FUNCTION OF THE STATE! It is something that cannot be placed into the hands of any Tom, Dick or Harry! What kind a dollhouse game is this we are playing? This is a country, they are the criminals, and governments have a duty to PROTECT CITIZENS!
Two men with ankle bracelets locked up after committing armed robbery? Boy, we 'JOKIN'!