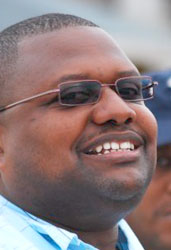 Nassau, Bahamas — Charles Maynard, Minister for Youths, Sports and Culture is livid at this hour as the Bahamas, which once held a firm grip on the silver medal at the international IAAF World Championships, has not qualified for the Men's 100m.

Bahamas Press agents are now in Daegu, Korea, where the events are being held. Our source has noted a war of words has erupted between members of the Bahamian team.
We understand a decision by a coach has landed the Bahamas in the stew of not qualifying for the finals.
Our man on the ground tell us, a senior coach decided to allow substitutes to run in the qualifying rounds of the race and at this hour, the Bahamas silver medal boys, will watch the finals even though they could have beaten the Americans team this year.
Teams, we are told, believe the senior coach making the decision has allegedly committed TREASON, and that it is possible some kind of payments could have been made in Korea to see to it that team Bahamas does not make the finals. The Bahamas didn't even make the semifinals.
In 2007 in Osaka, Japan Bahamian track star Derrick Atkins won the silver for the Bahamas at in the finals.

Bahamas Press is watching the event very closely and we advise the minister to have the BAAA's watch their selection of coaches more carefully.