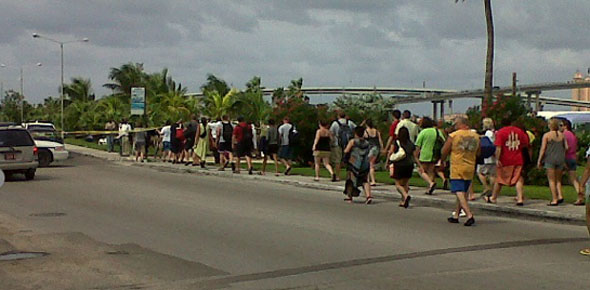 Nassau, Bahamas — Two persons have been shot on Eastern New Providence today bringing traffic to a standstill in the East Bay Street area near Esso On the Run Store, east of the old Paradise Island Bridge.
BP agents now on the ground tell us the incident played out just before noon this morning, leaving traffic in that eastern part of island at a stand still.
Sources confirmed one of the victims was running from persons who were brandishing a weapon in the area. We are told the gunman opened fire on the victim who was shot in the shoulder along with another person. Both victims were taken to the PMH for treatment and are now in stable condition
Bahamas Press learnt the incident played-out once again in the front of tourists, many of which are seen in the photo above making their trek back to Paradise Island.
Crime is way out-of-control across the country in every category, with murder skyrocketing since 2009, according to a US State Department advisory on the Bahamas. Some 109 persons have lost their lives at the hands of another, a record achievement since the Free National Movement Government was elected to office.
Meanwhile around the same time another shooting of a young man took place in the Fowler and East Street area of the capital. The condition of the victim is still unknown.