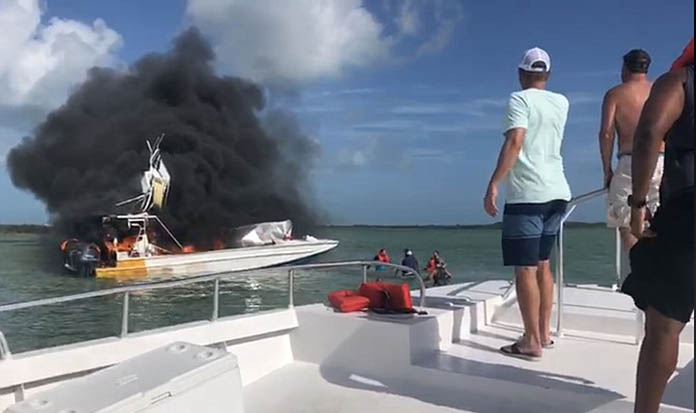 Nassau- Bahamas Press is reporting that at 12noon tomorrow two (2) adult males will be arraigned before the magistrate court on a charges of manslaughter by negligence and causing negligent harm.
This incident is in connection with that boating incident which occurred in Exuma back on 30th June involving ten (10) tourists and two (2) Bahamians.
The accident killed one American woman, caused her husband to have a leg amputated and caused another passenger to lose both of her legs and injured nine other people on that horrific Saturday morning.
Acting Port Controller Commander Raymond King had told media during a press conference the following Monday of the incident that no engine on the vessel exploded despite initial reports from the Royal Bahamas Police Force confirming the same.
A damning report by the Bahamas Maritime Authority (BMA) into the Four C's Adventure boat onboard explosion and fire found that the company broke the law by operating a boat that was neither registered nor ever inspected by the Port Authority.
Among the findings were that the home-built boat's "fuel-fill and vent hose did not appear to meet the required specification for its intended purpose; the craft had not been constructed to a recognised standard, or to naval architectural or technical drawings; and the craft's construction and equipment materials were not verified for suitability of use". Yet guests from around the world were booking tickets. WHAT IS THIS?
Investigators also concluded that the Port Department of Exuma has not been "adequately resourced to control and regulate commercial water crafts operating on the island", noting that a "significant number of commercial crafts operating within the waters of Exuma are not registered with the Port Department despite having submitted valid applications. The mechanical, structural, and safety standards required to be met cannot be verified".
This must also leave to wonder if they were evening charging vat in the businesses and handing over the sums to the Government!
We report yinner decide!