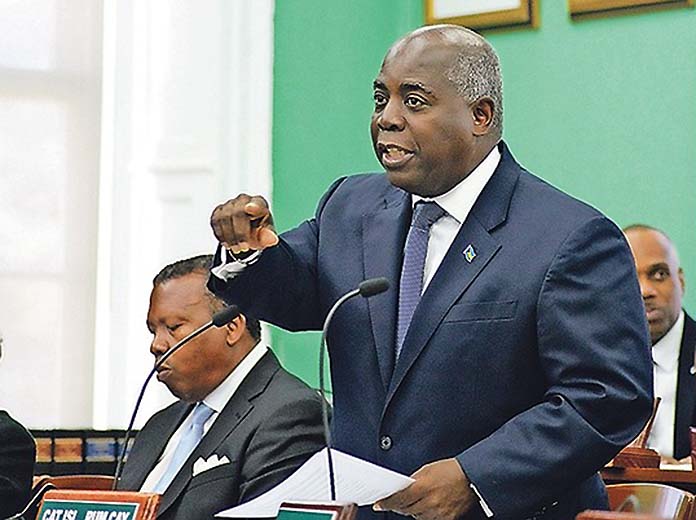 Nassau – What is being presented to the Bahamian public as a way to have the main Post Office relocated to the Town Centre Mall, is really a 'financial bailout' allegedly for the benefit of Immigration and Financial Services Minister Brent Symonette, whose company has controlling ownership of the commercial building.
According to Opposition Leader Philip 'Brave' Davis, this 'scandal' is no new thing as Symonette has a history of using the public purse to gain an advantage for self- enrichment.
While the purpose for men and women to enter public life is to serve others and not themselves, Davis is convinced that the Bahamian tax payers will now be burdened with a well- engineered plan by Symonette, who stands to gain much wealth from an agreement in which the government is expected to find $12 per square foot for an area in the mall measured at 65,000 square feet.
It is a known fact that the Town Center Mall currently has two tenants, one at each end of the mall. The spaces allotted for stores are vacant and the entire mall is like a ghost town.
Davis noted that what the FNM Government is really doing is engaging in a business strategy known as 'Lost Leader'. By renting space for the Post Office in the Town Center Mall, they would attract thousands of people.
This in turn, Davis added, would then cause all the spaces that were once empty to become rented, offering convenient consumer services to those coming to the post office. Thus leaving Symonette to enjoy a very lucrative financial bailout for his company.
It is no secret that Symonette is the same cabinet minister who was fired by former Prime Minister Hubert Ingraham for conflict of interest when he (Symonette) as chairman of the Airport Authority awarded contracts to his company. Now, he is in the same situation again, this time without shame, allowing his government to pay rental funds, potentially in the millions, to another company owned by him!
Davis, who was addressing persons attending a recent Garden Hills branch meeting, called the whole issue a self-dealing, corrupting process.