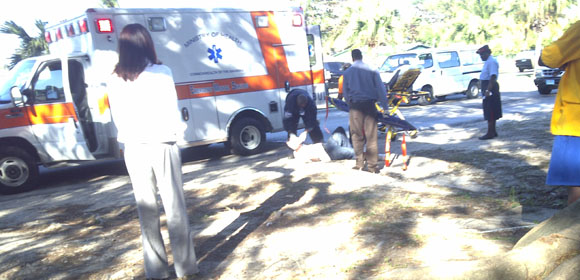 **POLICE INVESTIGATES TWO (2) TRAFFIC FATALITIES**
Nassau, Bahamas – Police are investigating two (2) separate traffic accidents that have resulted in the death of two (2) men. The first incident reportedly occurred around 11:45 pm on Thursday 28th June, 2012 and resulted in the death of a 23 year old male of South Beach. Preliminary reports indicate that the operator of a red and white Honda 650cc was traveling west along St. Vincent Road in the area of Silver Gates when he lost control of the motorcycle and collided into a white F-150 truck. The victim was taken to hospital via EMS personnel where he succumbed to his injuries around 8:00 am on Friday 29th June, 2012.
The second incident reportedly occurred around 3:45 pm on Friday 29th June, 2012 and resulted in the death of a 45 year old male of Eastwood Estates. Preliminary reports indicate that the deceased was driving a white 2009 Suzuki Van east along Joe Farrington Road when he lost control and collided with a utility pole. The victim was pronounced dead at the scene. Active police investigations continue.
**POLICE UNCOVER SHOTGUN & STOLEN ITEMS**
A shotgun along with an assortment of electronic equipment was uncovered by police from the rear of a business establishment on Wulff Road. Initial police reports indicate that around 9:00 am on Friday 29th June, 2012 police acting on information went to the rear of the business establishment where they uncovered the items inside an abandoned vehicle. No arrests were made. Active police investigations continue.
**POLICE INVESTIGATES ALLEGED ABDUCTION & ROBBERY**
Police are requesting the public's assistance in locating five (5) men whom they want to question reference to an alleged Abduction and Armed Robbery. The incident reportedly occurred around 2:35 am on Saturday 30th June, 2012. Initial reports indicate that the victim, a 46 year old male of Bacardi Road was walking on Fire Trail Road when he was approached by a Honda vehicle occupied by the men. It is reported that the men forced the victim into the vehicle where they beat and robbed him of an undisclosed amount of cash. The victim was released by the culprits and taken to hospital via EMS personnel where he is detained in stable condition. Police are investigating and are appealing to members of the public who may have any information regarding this incident to contact police. Active police investigations continue.
SUSPECT ARRAIGNED FOR SHOP BREAKING & STEALING
Grand Bahama Island – A 43 year old resident of Pioneers Way, Freeport, will serve fourteen (14) months at Her Majesty's Prison in New Providence for Shop breaking and Stealing.  This was the sentence handed down to him after he pleaded guilty to the charges of Shop breaking and Stealing at 10:00am this morning, Thursday 28th June, 2012 before Magistrate Andrew Forbes in Magistrate's Court No.2.
This arraignment is in relation to a report made at 7:38am on Tuesday 26th June, 2012 in which the complainants reported that their business establishment, Water Depot and Mini Mart on East Beach Drive and East Sunrise Highway was broken into and items valued at approximately $2,400 was stolen between 9:30pm on 25th June, 2012 and 6:30am on 26th June, 2012.
Quick response by the police officers from the Lucaya Police Station in addition to the assistance of the business owners resulted in the arrest of the suspect a few hours later and the stolen items were recovered.
This is just a sample of the good work the officers here on Grand Bahama Island continue to do on a weekly basis in partnership with the Grand Bahama Community and we thank them for their support.