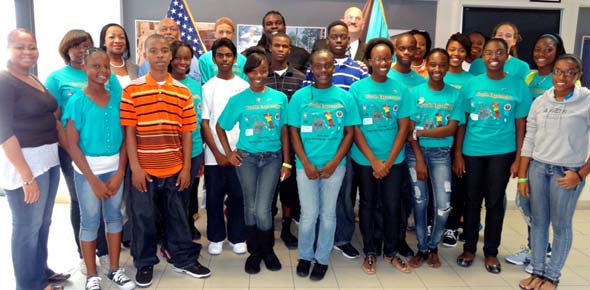 On Monday, November 26th, the winners of the "Youth Expression Against Drugs" Essay, Rap and Poetry Competition and representatives from the Bahamas National Drug Council (BNDC) visited the U.S. Embassy where they received a special tour and participated in an informal dialogue with U.S. Chargé d'Affaires John Dinkelman.
The group's visit coincided with The Bahamas government's recognition of the Women's Suffrage Movement in The Bahamas and the date of the 50th anniversary of the Bahamian women having the right to vote for the first time. The Chargé, who had just returned from the Special Sitting of Parliament to mark National Women's Week, highlighted the significance of the Women's Suffrage Movement and congratulated the contest winners on their own historic achievements and advancements toward nation building.  He challenged the youth ambassadors to continue being pacesetters and to seek out opportunities to create legacies of their own.  He also urged them to continue being leaders in their community by encourage other students to stand up to negative peer pressure by saying "no" to drugs.
The twenty youth ambassadors representing public and private schools on New Providence, Grand Bahama and Crooked Island were the winners of the first "Youth Against Drugs" Essay, Rap and Poetry contest co-sponsored by the U.S. Embassy and the BNDC last spring.  The students are on their way to Eleuthera Island to participate in a week long National Geographic Photo Camp at the Island School where they will have a once in a lifetime opportunity to learn the basics of photography from world renowned National Geographic photographer Raul Touzon and photo editor Todd James.  The budding photojournalists will capture the natural beauty of The Bahamas and showcase the importance of preserving the islands for future generations at a special photo exhibit that will open December 1 at 7:00 p.m. at the Eleuthera Arts and Cultural Centre in Tarpum Bay, Eleuthera.