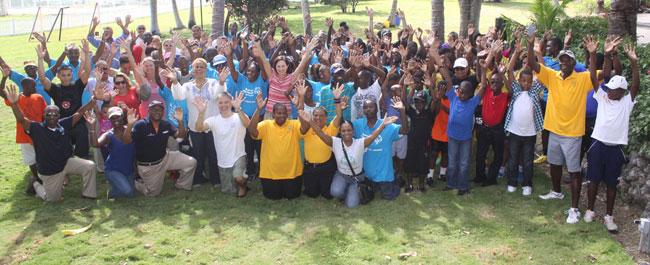 Nassau, Bahamas – For the fifth consecutive year, the U.S. Embassy partnered with Special Olympics Bahamas to host the annual Eunice Kennedy Shriver Day celebration at the U.S. Ambassador's Residence on Saturday, September 27.  As in years passed, the front lawn of the residence was transformed into a "Mini Camp Shriver" where hundreds of Special Olympics Bahamas athletes and volunteers enjoyed a morning of fun, food and games.  The event served as an opportunity to honor the legacy of the founder of the Special Olympics organization, the late Eunice Kennedy Shriver, who spent her life committed to people with intellectual disabilities.
With the theme "Play Unified to Live Unified", U.S. Embassy volunteers led by Chargé d'Affaires Lisa Johnson joined with Special Olympics Bahamas volunteers, family members and representatives from partner organizations to promote social inclusion and the spirit of volunteerism.  Participating partners included the Bahamas Football Association, Bahamas Olympic Committee, American Women's Club, Eleuthera Special Olympics Program, Royal Bahamas Police Force, Bahamas National Council for Disability, REACH, the Kiwanis Club and Stapledon School for Special Needs Children.  The EKS Day youth activities included bocce, soccer, tennis, egg and spoon competitions, sack races, face-painting, dancing and the always popular dunk tank where athletes enthusiastically took turns for a chance to "dunk" U.S. Embassy volunteers into a large water tank.
On hand to participate in the EKS Day celebration were Minister of State for Transport and Aviation Hope Strachan, Permanent Secretary in the Ministry of National Security Carl Smith, Royal Bahamas Defence Force Commodore Roderick Bowe and Marketing Manager Yolanda Pawar-Bain at Marco's Pizza, a proud sponsor of EKS Day.  The U.S. Embassy would like to thank all volunteers, athletes and Marco's Pizza for their dedicated efforts in making this year's EKS Day celebration a success.