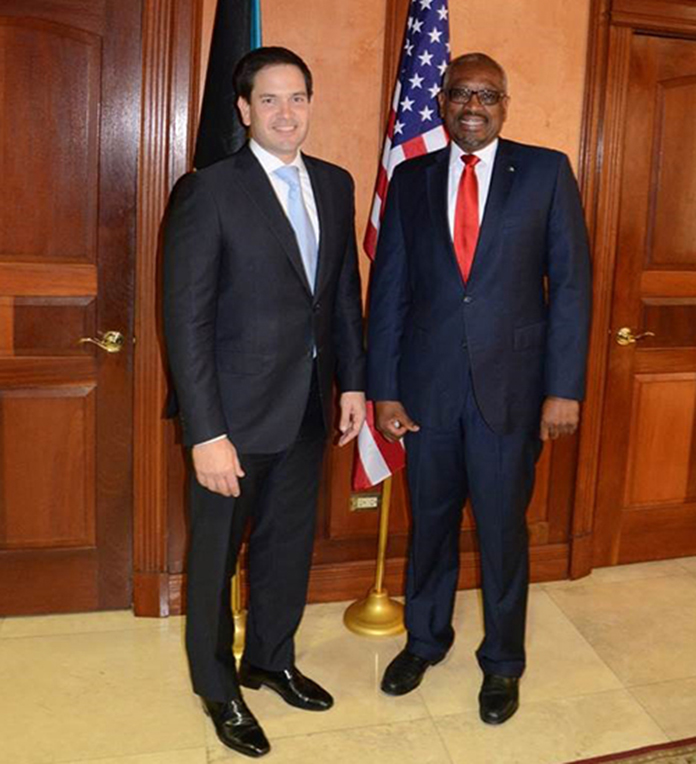 Nassau, Bahamas – U.S. Senator Marco Rubio (R-FL), Chairman of the Senate Foreign Relations' Subcommittee on Western Hemisphere, Transnational Crime, Civilian Security, Democracy, Human Rights, and Global Women's Issues, traveled to the Bahamas Wednesday, where he met with Prime Minister Hubert Minnis to discuss bilateral relations, and thank the Bahamas for their leadership in working with the Lima Group countries and Caribbean island nations to increase pressure on the Maduro regime.
Rubio also met with U.S. Marines stationed in Nassau, and received a briefing on the ongoing counter illicit trafficking operations in the Bahamas and Turks and Caicos.
"I thank Prime Minister Minnis for his leadership in joining other democratic nations to condemn the Maduro regime at the VIII Summit of the Americas in Lima," said Rubio. "I reiterated my support to the people of the Bahamas and the cause for freedom and democracy in the region. I remain committed to working with Prime Minister Minnis to increase trade, investment, and cooperation between our countries."
In April, Rubio spoke on the Senate floor to outline actions the United States and its partners must take to hasten the emergence of a post-Maduro Venezuela and restore democracy to the country. On Monday, Rubiomet with U.S. diplomats and Costa Rican government officials to discuss their leadership in the Lima group, the ongoing crisis in Venezuela, bilateral relations, and the fight against transnational criminal organizations. Yesterday, he met with U.S. diplomats and Panamanian government officials to discuss the Lima group. During his official visit, Rubio also toured the Panama Canal.