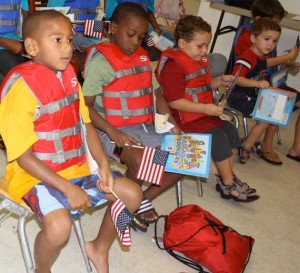 On Friday, August 19 representatives from the United States Coast Guard (USCG), Royal Bahamas Defense Force (RBDF) and the Bahamas Air Sea Rescue Association (BASRA) visited the YMCA in Freeport, Grand Bahama to support of the "Bahamas Youth Safe Boating Campaign".   Nearly 60 enthusiastic children and young adults from the YMCA Youth Summer Camp and the West End Eco-Fishing Camp participated in the hands-on event.
The key message of the campaign is to teach Bahamian youth the appropriate use of personal flotation devices (PFD) or life jackets, as they are more commonly known.  U.S. Coast Guard Liaison Officer, LCDR Brian Betz emphasized the importance of always wearing a life jacket when in or around water.  With the help of a few eager volunteers LCDR Betz demonstrated the proper way to wear and maintain the life jackets.  Senior Lieutenant Eric Strachan, Officer in Charge of the RBDF Northern Command on Grand Bahama also provided useful boating safety to share with their families.  The Director of BASRA on Grand Bahama, Justin Snisky, concluded the presentation with the distribution and review of youth activity booklets focusing on safe boating practices.  Each child was given a life jacket and presented with a "certification" sticker signaling that they will always wear their life jackets when out enjoying the beautiful waters of The Bahamas with their family and friends.
The presentation in Freeport marked the second collaborative outreach effort by the USCG, BASRA and the RBDF to promote safe boating practices to Bahamian children.  The initiative was launched by U.S. Ambassador Nicole Avant in Abaco in June with outreach events in Hope Town and Marsh Harbour.  More than 160 life jackets have been donated to Bahamian youth so far this year.  The life jackets donations in Abaco and Grand Bahama were made possible by the generous support of the United States Northern Command (USNORTHCOM).