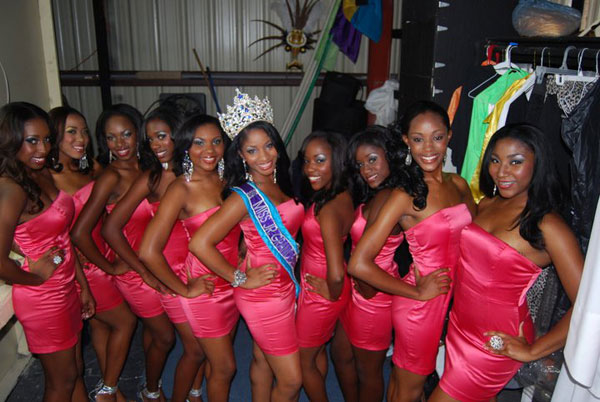 Grand Bahama, The Bahamas – Despite poor weather, hundreds showed up to witness the unveiling of the Miss Junior Grand Bahama 2011 contestants on April 29th, 2011 at the newly built Cultural Theater located at the Grand Bahama Harbour. Excitement filled the air as 9 beautiful teen aged girls, graced the stage adorned in shimmery coral dresses and glamorous silver heels. The first segment for the evening consisted of each contestant being formally introduced, which also included  an on-stage interview conducted by the Miss Junior Grand Bahama Organization President of Production, Colette C.V. Parker.
As the night continued, the contestants participated in the first ever Miss Junior Grand Bahama Runway Competition which was sponsored by Runway Shoe Store. Each contestant wore a black outfit of their choice, allowing them to showcase their personality and modeling skills.
At the end of the night 3 young ladies placed in the Runway Competition. Shaune Russell was the 2nd runner up, Garrett Bowleg was the 1st runner up, and the overall winner was 17 year old Yamese Swain, a current student at the College of the Bahamas. The other contestants included: Holland Barr, Leshae Johnson, Tisheena Gardiner, Arie Brooks, Chemika Metayer, and Davia Sutherland.
The unveiling and runway competition marks the first of two preliminary events and was deemed as a success. Colette C.V. Parker, Pageant President of Production said "This year we have worked overtime to improve our product and are pleased with the results."
On Sunday May 8th, the second preliminary event will commence which is the Speech, Spokes-model and Swimsuit Competition. It will also be held at the Cultural Theater located at the Grand Bahama Harbour. Tickets are $10.00. The final crowning night is scheduled for May 22nd, 2011 and will be held at the Regency Theatre under the theme "Goddess".