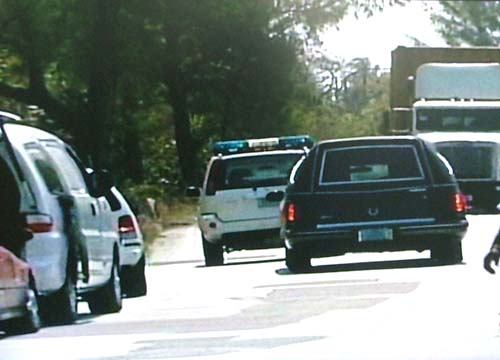 The victim of another brutal murder in The Bahamas. (file photo)
Police are all tight lipped on the update of the Hal Taylor murder, however a source close to the investigation has informed Bahamas Press that the officer, who alerted police and discovered the gruesome scene late last year, has been placed on administrative leave from the Royal Bahamas Police Force. The source noted, "I have little trust that anything is going to happen on this one, as the force is even tight lipped over the fact that an officer is on leave from the force."
The source also noted that the sketch of a man identified by eyewitnesses in the murder of Marvin Wilson has already been spotted and positively identified by the investigative teams. The source noted that the suspect will most likely be picked up by police, 'today, or by weekend in hopes to be arraigned before the courts on Monday."
"We are getting real bad press for a lot of these murders in the town, in fact 3 of the last 4 bodies discovered last week were all indeed murders. However police are doing all it can to not create fear in the public, but as they continue to hide what is going on in the country, they are loosing the confidence and trust of the public." The source close to the investigation noted.
Last week the 'Wutless' Tribune sought to take the public on a wild goose chase with the murder of Taylor. Suggesting that the suspect is a hotel worker. However, Rev. Simeon B. Hall was clear and correct when he noted that high ranking official in the police force were attempting to cover up and suppress the details of what has already been known to them. The young officer who discovered the fashion designer, Taylor dead at his Mountbatten House residence that Sunday morning was quickly removed out of the police force on leave.
Members of the public would also be reminded that the foreigners discovered working in the designer's home were all quickly shipped out the country before a careful investigation can be carried out on them. And still to date no mention has yet been made of the young officer that reportedly discovered Taylor's body in his bedroom, drenched in blood.
In a November 2007 edition the Bahama Journal paper reported the following update in the Taylor Murder:
Assistant Superintendent of Police Ellison Greenslade told the Journal on Monday that police don't want to say anything that would compromise their investigation, but he said he had been in touch with Superintendent Glen Miller, the officer in charge of the Central Detective Unit, and detectives were making "good progress" in the Harl Taylor murder case.
However since then, even Superintendent Ellison Greenslade, a highly respected officer, was sent off to Canada for training, and still no good progress have yet been made in the case.
Persons hearing the news of this latest development concluded that the Tribune's attempt to suggest a hotel worker is involved in this, along with other murders was all an attempt to create a spin for their contacts in the force, which knew, the officer in question with the crime, was sent on leave.