Cleaning up the Bahamas one community at a time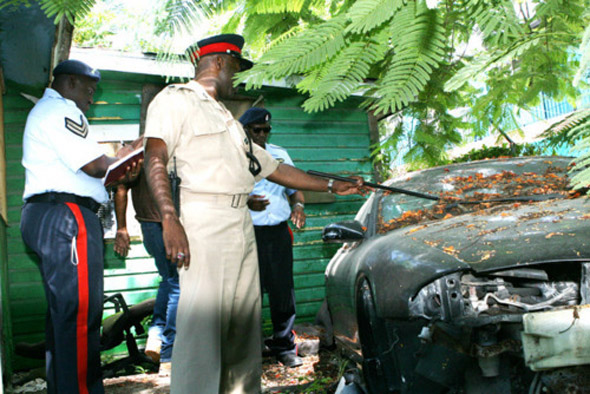 NASSAU, The Bahamas – Police Officials attached to the Bain and Grants Town Urban Renewal Project Office "moved quickly" Tuesday to demolish an abandoned building on the corner of Hay and Market Streets less than 15 hours after the discovery of a firearm and a quantity of cocaine.
The abandoned structure was hidden from view, at least 30 feet off the road in thick, tall, overgrown bushes. Tractors had to push down the overgrowth in order to get to the structure and a derelict vehicle also found on the property.
"This really was the ideal place for any criminal element who wanted to hide/store drugs and/or weapons, to do so" Superintendent of Police Stephen Dean said. "But this should send a clear message to the drug dealers and other criminal elements trying to use these abandoned buildings and derelict vehicles to hide their illicit drugs and guns and ammunition, that we will find them, no matter where they hide them.
"We want to put the warning out to all the criminal element who are hell-bent on utilising the inner-city communities as bases of their operations that that if you possess weapons, we will find you. If you deal in drugs, we will find you.
"We have good information relative to what is going on in these communities and those days are coming to an end for criminal elements who come into the inner-city communities to use them for their illegal business operations," Superintendent Dean added.
Mr. Dean, who serves as Co-Coordinator of the Urban Renewal Project Offices, Police Division, along with Superintendent Carolyn Bowe, said the presence of officers from the Urban Renewal Project Offices "on the ground" in communities on a daily basis, is having a "profound effect" on the war on crime and criminality in many of the crime "hot spots."
The "Boots on the Ground" approach, Mr. Dean said, has not only allowed residents to become more comfortable with officers as they get to know them better, but to foster better partnerships.
"Our officers are on foot aggressively working these communities and as a result, have been able to make a connection with the community, they are partnering, we are talking about community-based policing where the officers are on the ground in the communities on a permanent basis and so he is not just coming in every other day for picture taking purposes.
"These officers can feel the pulse of the community, they understand what is going on in the community which makes it a better place for everyone to live, work, play and visit."
Superintendent Dean said the partnerships with residents (Police officials have expanded those partnerships to include volunteer citizen groups who serve as their eyes, ears and feet on the ground) are also reaping rewards.
"Members of the public are coming on board. They have had enough. They have reached the point where they feel they must help us. Whether it is a derelict vehicle or an abandoned building, they want it removed. These people want to live in tranquil communities just like everybody else, and so the police and all the relevant and all the relevant government agencies are working, and will continue to work, in concert with them to ensure that these things happen," Superintendent Dean added.