Randol Dorsett must come clean on his previous clients at a lawyer before being appointed Chairman of URCA!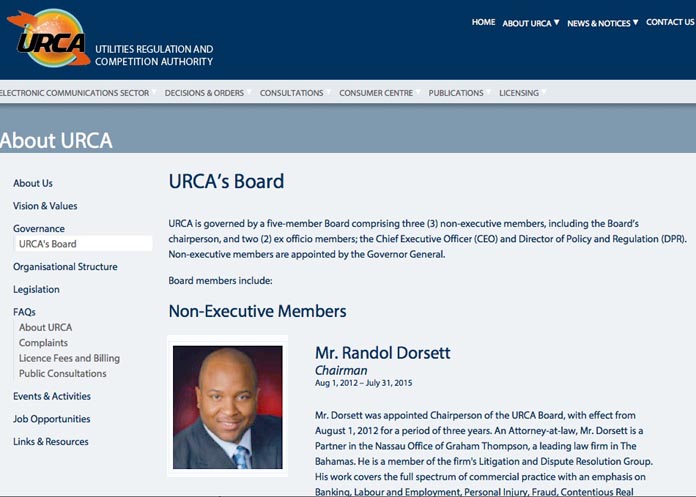 Nassau, Bahamas – Last week letters began to circulate to members of the media on what is permissible on air using the broadcasting codes of URCA. We believe this decision by URCA to strong arm members of the press came about as there appears to be a conflict between URCA as a regulator and its bias toward Cable Bahamas. But this is our view.
You see, some interesting developments have come to light of late.
1) In the morning dailies Stephen Bereaux, URCA's Acting – CEO, was blatant in exposing his positions against Cable Bahamas' rival in telling it what it seeks to impose in favor of CBL as it becomes the second mobile provider in the country.
2) This apparent relationship of URCA batting for CBL became more evident when Damian Blackburn and Bereaux in joint releases published in the Nassau Guardian were both making statements on how they would get the second mobile provider up and running.
3) This week we learned how Bereaux's wife was on the Liberalization Task Force which issued the license for Cable Bahamas.
4) The facts are that we know that Cable Bahamas – long before it was even granted a license – knew something and so it began to build cell towers even before the license was issued and CBL was declared the second mobile provider. [What gave CBL the confidence to build towers when it was not even assured that it had won the bidding process – UNLESS SOMEONE INSIDE THE PROCESS TOLD THEM SOMETHING!]
5) And now there is this lurking question as to whether or not current URCA Chairman Randol Dorsett had worked for Cable Bahamas in his capacity as a lawyer for Graham Thompson and CO. Someone in URCA must speak to this appearance of possible conflict!
Bahamians must know the facts! We must open their eyes and see why some persons now seeking to silence members of the media in the Bahamas know why! Maybe they just don't want anyone talking to them…and we believe we know why!
We report yinner decide!