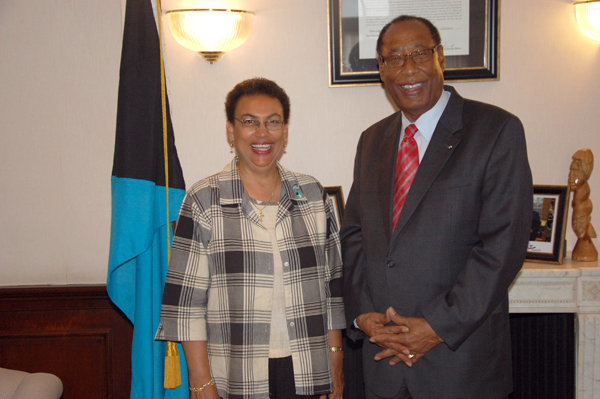 WASHINGTON, DC — After participating in the US Department of State-sponsored International Visitor Leadership Program (IVLP), veteran educator, Junkanoo proponent and cultural advocate Arlene Nash Ferguson expounded on the necessity for The Bahamas to participate in professional exchange, especially in the area of cultural preservation.
"It is very important," she said. "It demonstrates our eagerness to be a part of the world community and work with other nations toward common goals. Programs such as this broaden our horizons, exposing us to new ideas and thinking in international circles, and this inspires us to bring new ideas home and adapt them where applicable and where needed to our local circumstances.
"The experience also deepens our appreciation of what we do have in the area of cultural heritage, and serves to underline the critical importance of preserving it."
"The program," she added, "also allows us to establish links not only with persons in the same area in the United States, but also around the world: there were 18 participants in my program and only three nations from the Western Hemisphere were represented – Mexico, Guyana and The Bahamas."
The IVLP is funded and administered by the US Department of State's Bureau of Educational and Cultural Affairs, and is designed to build mutual understanding between the US and other countries through "carefully designed visits that reflect the participants' professional interests and support US foreign policy goals".
The focus of the IVLP in which Mrs Ferguson participated was Cultural Heritage Preservation. Mrs Ferguson and her colleagues toured four cities: Washington, DC, St. Louis, Missouri, New York City, and Savannah, Georgia.
"In all of these locations," Mrs Ferguson reported, "we met with persons in positions of authority and various areas of expertise, in a variety of institutions like the US National Committee of the International Council on Monuments and Sites [USICOMOS] in Washington DC, the Missouri History Museum in St. Louis, Missouri, the Metropolitan Museum of Art in New York City and the Sapelo Island Cultural Revitalization Society in [Georgia]."
Asked what lessons she taught, and what she learned, Mrs Ferguson said: "I think I 'taught' that despite being less than 50 miles from the US mainland at our closest point, The Bahamas has a unique culture, and we are serious about preserving it. I learnt that we can do quite a bit to preserve our cultural heritage, notwithstanding financial constraints."
Like Mrs Ferguson, and STRAW Inc. Director Terri Cunningham, who is currently in DC and engaged in another IVLP project, participants are what the US dubs "established or potential foreign opinion makers" in government, public policy, media, education, labour, the arts, and other key fields.
Mrs Ferguson and Miss Cunningham were selected for the IVLP by the US Embassy in Nassau, to meet and confer with their professional counterparts and to gain an appreciation of the ethnic, cultural, political, and socio-economic diversity of the United States.
According to Mrs Ferguson, the IVLP demonstrates the commitment of the United States to partner with other countries in areas of mutual interest, like cultural heritage preservation. It also demonstrates their generosity in underwriting the cost of the entire experience.
"I think it was an honour for The Bahamas to have been invited to participate, and certainly a nation that has been independent for 38 years can learn much from a nation that has enjoyed independence for 235 five years. Our participation demonstrates that The Bahamas appreciates the efforts of the United States to partner in important areas and also the opportunity to benefit from their years of experience in various areas."
Alumni
Almost 300 IVLP alumni are current or former Heads of Government or Chiefs of State, including Presidents Nicolas Sarkozy of France, Hamid Karzai of Afghanistan, Alvaro Uribe Velez of Colombia, Mwai Kibaki of Kenya and Abdullah Gul of Turkey and Prime Ministers Gordon Brown of the UK and Helen Clark of New Zealand.