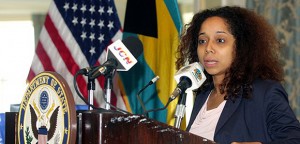 US EMBASSY: Julissa Reynoso, U.S. Deputy Assistant Secretary of State (DAS) for Central America and the Caribbean, will visit Jamaica with a delegation from Washington as the Caribbean Basin Security Initiative (CBSI) Commission convenes its first meeting on 3-4 November 2010 in Kingston.
The CBSI is a collaborative effort among the United States and its Caribbean partners which aims to strengthen regional capacity to ensure citizen safety.  The Jamaican-hosted November CBSI meetings will involve high ranking officials of the Caribbean Community (CARICOM), the Jamaican Ministry of Foreign Affairs and Foreign Trade, and the United States.
The meetings will focus on coordinating regional partnerships, implementing a Joint Plan of Action, and preparing for the Second Caribbean-US Security Cooperation Dialogue, scheduled for the first half of 2011.
United States President Barack Obama announced his intent to pursue a security partnership with the Caribbean at the Fifth Summit of the Americas, which was held in Port-of-Spain, Trinidad and Tobago, in April 2009.
Since then, the governments of the Caribbean and the US have met four times to jointly define and develop the goals and scope for the CBSI.   The security initiative is built on three strategic objectives: substantially reduce illicit drug trafficking, advance public safety and security, and promote social justice.