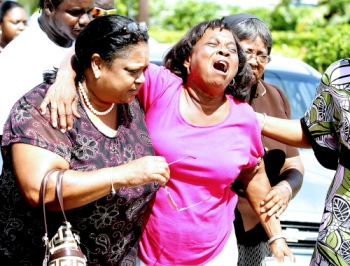 Nassau, Bahamas — Bahamas Press is probing the death of a 53-year-old man tonight and what we have uncovered is indeed shocking.
Keith Nixon, a former shipping company employee, was found dead in his home in early October and police have yet to classify his death as a murder. BP has begun investigations into this tragic incident and what we have uncovered thus far pushes us to believe Nixon was indeed murdered.
Residents in the quiet community of Misty Gardens, just off Cowpen Road, discovered Nixon – the former Tropical Shipping worker – dead in his home just after 10:30 am on October 13th. The victim was discovered with a single gunshot wound to his upper body and police told members of the press, they recovered a long shotgun at the scene.
But was Nixon capable of committing suicide? Fact is, it was just last year when he prevented a family friend from killing herself, and those facts proved, Nixon didn't believe in committing suicide at all. And here's where our investigations get interesting.
Just last year following his early retirement at the shipping company, Nixon collected a cheque of over $100,000. We are told this cheque along with income in his personal savings account, allowed him to sit comfortable as he worked odd job. But something happened.
Bahamas Press has learnt a close friend of Nixon had kidnapped him shortly after his retirement payout and had threatened to kill him sources tell us. Those culprits we are told, while holding Nixon against his will, used his personal ABM card and withdrew off his bank account over a period more than $4,000 before they freed him.
Bahamas Press has also learnt, those persons were later captured by police and placed before the courts for kidnapping and robbery. And here's where the story gets interesting.
After long delays in the kidnapping trial we have learnt Nixon's kidnapping case with his alleged abductors was slated for last month, just days before his suspicious death. Could it be a possible hit on Nixon's life, which resulted in his demise? Could it be revenge by Nixon's attackers, who possibly return to complete the threat they administered to him over a year ago? Or was it really felo-de-se as like so many cases today in the Bahamas that have gone unsolved by police? Only THE EYES OF THE GOOD MASTER Knows.
"We cannot get justice in this town. It cannot be found in the courts and the criminal justice system in the Bahamas is letting the blood of the innocent flow into the drains in this city. Someone need to help us!" one tearful grieving friend of Nixon said.
Family members and close friends of the deceased are not buying the suicide story one bit, nor is Bahamas Press.
Just as Keith Nixon was kidnapped and robbed one year ago, we believe someone took his life in his own home and shot him dead.
Nixon raised two young children, aged seven and nine years old.
There is a sad story in all this and it is the fact that a dead man cannot talk and his former kidnappers are still walking around scot-free. Nixon was laid to rest this past Saturday.

WE NEED CHANGE!