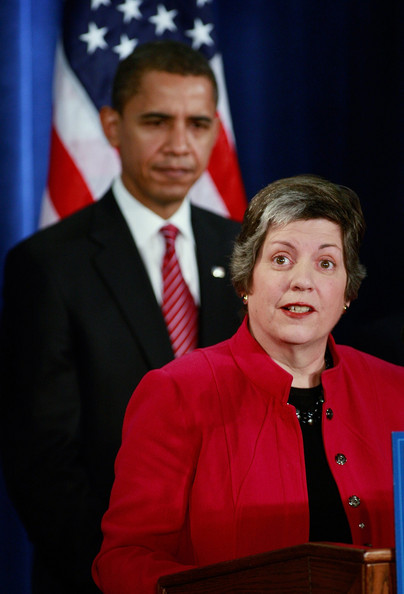 Nassau, Bahamas — The United States of America is sending its Homeland Secretary to the Bahamas amidst the serious cases of Human trafficking of Haitian migrants now on the rise. According to a press statement issued on the visit a spokesperson wrote:

"Secretary of Homeland Security Janet Napolitano will travel to Nassau, Bahamas on Nov. 9th-10th to deliver the keynote address at the second Caribbean Basin Security Initiative (CBSI) Dialogue and meet with senior U.S. State Department officials and regional security partners—highlighting the Department's commitment to collaboration in the Caribbean on a variety of security initiatives to combat transnational crime, cyber threats, and terrorism.
While in Nassau, Secretary Napolitano will meet with Bahamian Prime Minister Hubert Ingraham to underscore the Obama administration's commitment to strengthening bilateral security cooperation while facilitating trade and tourism. Secretary Napolitano will also participate in a media availability with State Department Acting Assistant Secretary for the Western Hemisphere Roberta Jacobson."
Bahamas Press welcomes the visit by Secretary Napolitano to the Bahamas amidst a vexing crime problem plaguing this part of the world. The Bahamas has experienced a record breaking 109 murders for 2011 alone, with some 22 additional incidents yet to be classified by police.
We call on the Americans to assist us in breaking the back of crime here in the country. Please assist us in weeding out the illegal trading of Human Labour [Haitians], where migrants are being abused and in many cases enslaved by traffickers underground.
We also ask the American Homeland Secretary to provide the Bahamas with two Blackhawk combat helicopters to help weed out criminals who have reigned terror on law abiding citizens, and have ganged up on groups of tourists across the capital.
HELP US PLEASE!!!!
CRIME NEWS……/
POLICE CONTINUE TO CITE TRAFFIC VIOLATORS
Police here in New Providence continue to issue traffic tickets to motorists who fail to adhere to traffic rules. During the past week, police throughout the capital cited three hundred and eighty-nine (389) drivers for various traffic infractions and placed one hundred and twenty (120) matters before the Traffic Court. Some of the offences for which persons were cited include: driving with loud music, driving in a wrong direction on a one way street, driving in a prohibited place, driving with one or no fitted head lamp, failure to have windows of transparent view, failing to keep left, parking in a no parking area, parking on a bus stop and driving on a closed street.
POLICE INVESTIGATES DEATH OF MALE
Police are investigating the death of a male whose body was retrieved from waters at Potters Cay Dock. The deceased has dreadlocks and was wearing a brown singlet and a pair of brown plaid pants. He had no visible signs of injuries to the body and appears to be in his late thirties (30). According to police reports, sometime around 11:30 pm on Sunday 6th November, 2011 police was notified that the body of a male was floating in waters at Potters Cay Dock. Active police investigations continue.
MISSING TEEN LOCATED
On Friday 4th November, 2011 police issued a missing person bulletin for LATEKIA TAYLOR of CHURCHILL SUBDIVISON OFF SOLDIER ROAD. Sometime around 2:00 pm on Saturday 5th November, 2011 Latekia Taylor returned home in good health. Active police investigations continue.
SOUTHWESTERN DIVISION MAKE FIREARM ARREST
Four (4) males, ages 19, 22, 25, and 26 are in police custody after they were found in possession of a handgun and ammunition. Officers of the Southwestern Division (Carmichael Road Police Station) arrested the men around 11:00 am on Monday 7th November, 2011. According to police reports officers of the Southwestern Division were on routine patrol on St. Vincent Road off Baillou Hill Road when they observed the occupants of a green Honda Accord acting suspiciously. Officers conducted a search of the vehicle and recovered the weapon and ammunition. Active police investigations continue.
POLICE INVESTIGATES BOATING INCIDENT
Police at Abaco are investigating a boating incident that has left a 50 year old man dead and another missing at sea. The incident reportedly occurred around 5:00 am on Monday 7th November, 2011. According to police reports a forty-six (46) ft, Seaport fishing vessel left the C.J. Dock at Marsh Harbour, Abaco in route to Port-Au-Prince with six (6) people, the boat captain and five (5) Haitian Nationals, on board. It is reported that while going through the Man-O-War Channel, five (5) miles east of Marsh Harbour, Abaco the vessel encountered extremely rough seas and subsequently overturned. Three (3) of the men surfaced and were able to board a small sea raft. Officers of the Royal Bahamas Defence Force and BASRA were notified and conducted a search of the area where the boat capsized and located another male along with the body of the 50 year old male. The search continues for the other male.
AMENDMENT: STABBING INCIDENT
On Sunday 6th November, 2011 police reported a stabbing incident that left a 27 year old female of Johnson Alley off Wulff Road in hospital. Initial police reports indicated that the incident occurred at One Love Junkanoo Shack, Mt. Pleasant Alley off Kemp Road. Police wish to inform the public that the incident did not occur at the One Love Junkanoo Shack but at another nearby business establishment on Mt. Pleasant Alley off Kemp Road. Police apologizes for any inconvenience caused to the One Love Junkanoo Group and encourages the group to continue with its efforts in nurturing our youth. Additionally, the Royal Bahamas Police Force encourages all Junkanoo groups to partner with their divisional commanders to develop strategize that would assist in making their practice sessions safe and free of incidents.