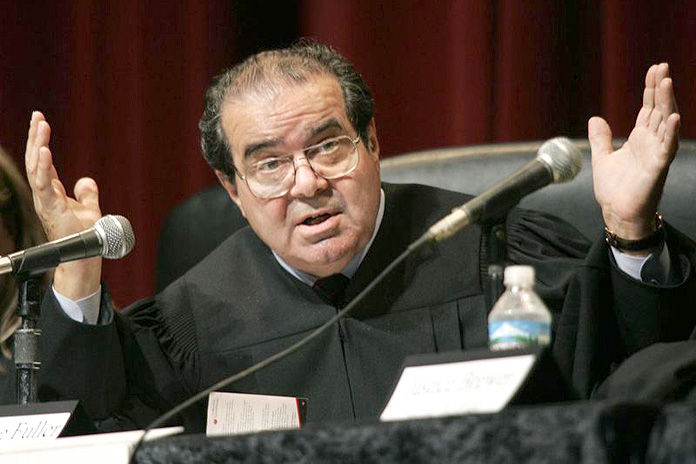 Supreme Court Justice Antonin Scalia, a tart-tongued champion of conservative interpretation of the Constitution, has died at a West Texas ranch resort, government officials said Saturday. Scalia, the longest-serving justice on the court and its first Italian-American member, was 79.
President Barack Obama, on a trip to California, praised Scalia as "a larger than life presence on the bench" and a deeply influential "brilliant legal mind" with an "incisive wit."
And Obama flatly rejected Republican demands that he leave the job of replacing the late justice to whomever wins the November elections.
"I plan to fulfill my constitutional responsibilities to nominate a successor in due time," he said, pressing the Senate to "fulfill its responsibility to give that person a fair hearing and a timely vote."
Scalia's death had instantly triggered a pitched political battle in Washington, with Democrats urging President Obama to nominate a new justice rather than leave a vacancy for the next occupant of the White House. But top Republicans, including Senate Majority Leader Mitch McConnell and several of the party's presidential candidates, immediately called for leaving the decision to Obama's successor.
Obama learned of Scalia's passing while on a trip to California, White House spokesman Eric Schultz said in a brief statement that offered no clues as to the president's plans. "The president and first lady extend their deepest condolences to Justice Scalia's family," Schultz said. Obama was expected to say more later.
A knowledgeable source with close ties to the White House, speaking on condition of anonymity, shared a short list of potential Obama nominees.
The list included Sri Srinivasan, a U.S. Court of Appeals judge for the District of Columbia circuit; Merrick Garland, chief judge of the United States Court of Appeals for the District of Columbia circuit; Attorney General Loretta Lynch; Neal Katyal, a Georgetown law professor who spent one year as Obama's acting solicitor general; Homeland Security Secretary Jeh Johnson; Solicitor General Don Verrilli, beloved in the White House for his high-profile successes in defending Obamacare before the court; and former Attorney General Eric Holder.
One long-shot contender could be Charles Wilson, U.S. circuit judge on the United States Court of Appeals for the 11th Circuit, in Florida.
But any Obama nominee has only a "1 out of 1,000 chance of getting confirmed" in the face of Republican opposition, the source said. Still, the president could make things difficult for the GOP by nominating a woman or minority to the Supreme Court, the source said.
Obama has told friends that he views nominating two women to the court as a key part of his legacy. The president could now try to name a third, after Sonia Sotomayor and Elena Kagan.