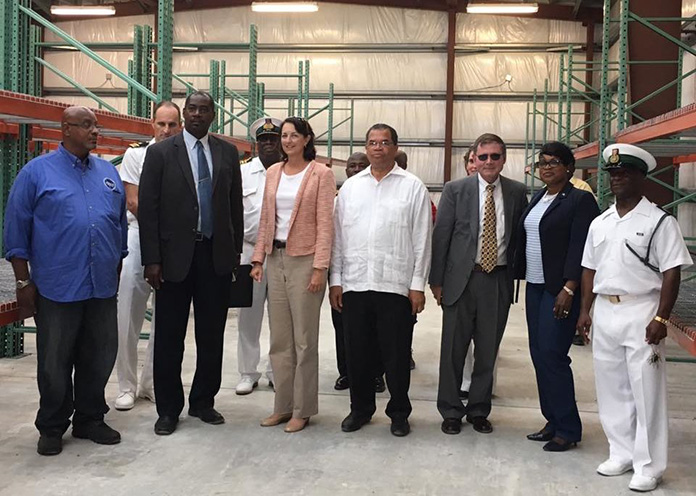 On Thursday, June 22, the National Emergency Management Agency (NEMA) hosted a ribbon cutting ceremony for the United States Northern Command (USNORTHCOM) Humanitarian Assistance Program funded $1.8 million emergency relief warehouse in Great Inagua. NORTHCOM has been working with NEMA since December 2009 to support their long standing requirement to have three regionally located emergency relief warehouses based in the north, central, and southern islands of The Bahamas, to enable timely post-hurricane disaster response and relief.
On hand to mark the occasion, U.S. Chargé d'Affaires Lisa Johnson, Minister of Labour, Senator The Honorable Dion Foulkes and USNORTHCOM's Humanitarian Assistance Program Team led by Interagency Director Mr. Randy Zeller.
Chargé Johnson commended the USNORTHCOM team for its perseverance, diligence and professionalism in seeing the project come to fruition. She also commended Captain Stephen Russell, NEMA Director, for his vision and continued stewardship of a vital agency, noting that the U.S. Government looks forward to a continued collaboration in the years to come. The Chargé further highlighted that the close relationship between the United States and The Bahamas also means assisting each other in preparation for whatever Mother Nature may have in store for either country.
"Our nations face common hazards, including flooding brought on by tropical storms and hurricanes, which in recent years have claimed lives and property in the region." She added, "We have worked together to assist and rebuild. I trust this new emergency relief warehouse will enable NEMA to assist Bahamians in the event of any future natural disasters".
The warehouse in Inagua compliments the central warehouse, located in Coral Harbour, New Providence that was constructed in 1989. In 2013, a similar warehouse was inaugurated in Freeport, Grand Bahama. The commissioning of the third warehouse on Inagua fulfills a longstanding vision of the United States Government and NEMA to assist with hurricane preparedness in The Bahamas.