The Bahamas Needs Two Black Hawk Helicopters to combat the war on CRIME!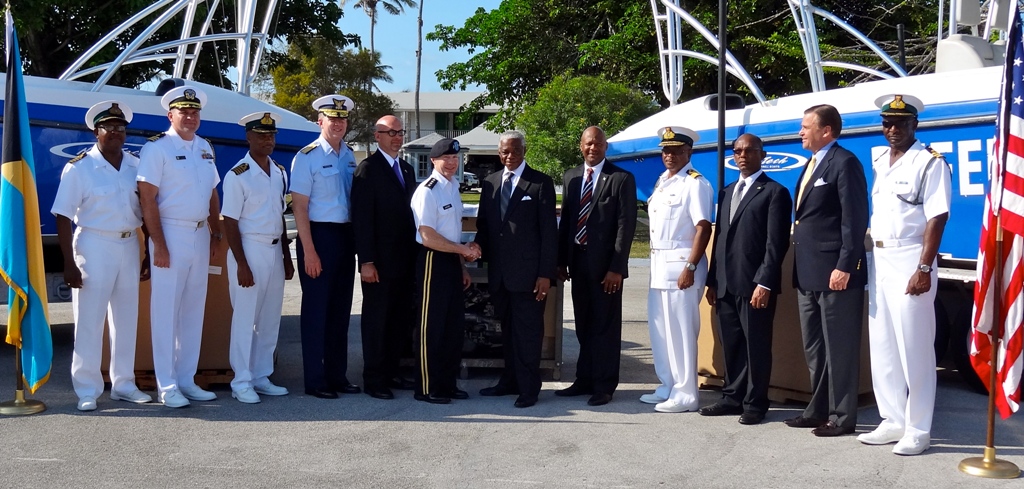 Nassau, Bahamas — On Wednesday, May 1, General Charles Jacoby Jr., Commander, North American Aerospace Defense Command (NORAD) – United States Northern Command (USNORTHCOM), U.S. Chargé d'Affaires a.i. John Lowell Armstrong, Minister of National Security, The Hon. Bernard Nottage and Commodore of the Royal Bahamas Defence Force (RBDF) Roderick Bowe, participated in a handover of over $941,000 USD in critical equipment to enhance the performance of the RBDF's Interceptor Class vessels during a ceremony at the RBDF's base in Coral Harbour.
The enhanced equipment package will ensure that the RBDF continues to operate effective sea-patrols and be better equipped to detect, prevent and disrupt transnational criminal activities that may occur throughout the 100,000 square miles of Bahamian territorial waters.  To date, the RBDF has received four Interceptor Class vessels and equipment from the U.S. Department of Defense. Capable of speeds of over 40 knots, they have since become the backbone of the RBDF's at-sea interdiction.
In his remarks, General Jacoby highlighted USNORTHCOM's strong partnership with the RBDF in the collective fight against transnational crime and the shared commitment to broader maritime security efforts.  He also emphasized that USNORTHCOM will continue to invest in the vital partnership despite the many fiscal pressures facing the U.S.
"We hope that this equipment will serve to bolster your capabilities and capacity to address the many existing and emerging challenges to regional safety, security and defence," General Jacoby said. "Today's event reaffirms the strength of our bonds and serves as a reminder of our ongoing efforts to promote security throughout the region."
Minister Nottage thanked USNORTHCOM for the donation on behalf of The Bahamas government and its citizens.  He highlighted that while the U.S. government's multi-million dollar investments to the RBDF over the years has yielded major long-term security progress, there is still much more to be done.
"Today, transnational crime activities such as narcotics smuggling, human smuggling and trafficking and small arms trafficking continue to occur in the Bahamian maritime domain," Minister Nottage said. "If left unchecked, these illicit activities can destabilize the peace and security that The Bahamas and its neighbours seek to enjoy."
This latest donation by USNORTHCOM includes three 50 ft. Performance Jet Docks (easy on/off small drydocks that allow vessels to dock out of the water when in port), six 315 horse power Yanmar diesel stern-drive engines, 18 Brave Stern drives, six Raystar GPS antennas, 18 Engine Turbochargers, 30 Odyssey boat batteries and two shipping containers full of replacement and spare parts for the vessels.
The handover of critical equipment was part of the U.S. Department of Defense's Enduring Friendship Program; a regional maritime security assistance initiative designed to synchronize, and align maritime security activities between the United States and partner nations.  The ultimate goal of the Enduring Freedom Program is to protect common maritime interests, prevent terrorist and criminal exploitation of transit routes, and prevail against transnational maritime threats.