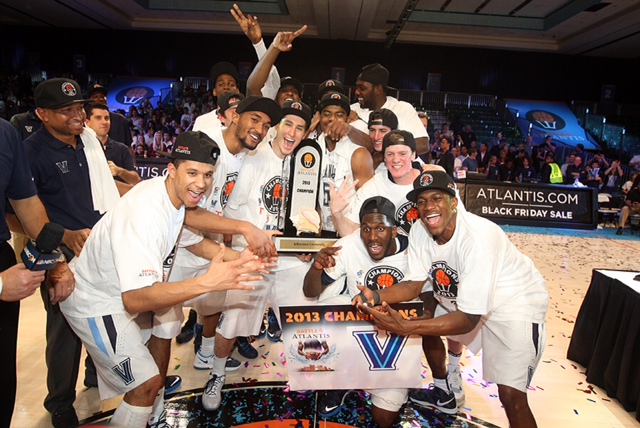 Paradise Island, Bahamas – In an absolutely riveting championship game, Villanova rode a wave of nine second-half 3-pointers to overcome a 15-point deficit and defeat 23rd-ranked Iowa 88-83 inovertime. The victory came 24 hours after the Wildcats used a 3-pointer with 10 secondsleft to beat No. 2 Kansas in the tournament semifinals.
"That was a thrill, to say the least," Villanova coach Jay Wright said. "That was a great game. It was a great tournament."
The Hawkeyes took the lead midway through the first half and stretched their advantage to 50-35 with 17 minutes left in the game. Iowa still led 55-43 when Villanova guard James Bell let loose with a trio of 3-pointers in a 72-second span, slicing the deficit down to 55-52.
"That was really the key," Iowa coach Fran McCaffery said. "Once he got going, it changed everything in the game in terms of momentum. We got a little tentative offensively after that." Wright said the performance was typical of Bell, who averaged 15.7 points in his three Battle 4 Atlantis games and was named the tournament's Most Valuable Player.
"We've had him for four years, and he's hit so many big shots like that," Wright said. "You can tell a player's self-esteem by his willingness to take big-time shots when things aren't going well. Tonight he was missing shots and we were struggling, we couldn't score. And he just takes it on his shoulders and hits big shot after big shots and gets us back into the game."  The game shifted into high gear near the end of regulation, as the lead changed hands four times in the final three minutes, including three times in the final 1:15. A 3-pointer by Villanova guard Ryan Arcidiacono gave the Wildcats a 72-71 lead with 48 seconds to play, but Roy Devyn Marble tied it at 72 on a free throw with 27 seconds left, sending the game to overtime.
"It was just players making plays. That's what this game came down to," said Marble, who scored a game-high 24 points to go along with five rebounds and five assists. "The coaches can only do so much. The players just have to make plays, and (Villanova) made more than we did."
That was definitely the case in overtime, as the Wildcats scored on eight of their nine possessions and pulled away for the victory. But even with the loss, McCaffery said the tournament was a valuable experience for his team.
"This has been a grueling three days, when you look at the caliber of teams that are here and the preparation that goes into playing those teams," McCaffrey said. "This game was two really good teams going after each other. That's why you come here. We're thrilled for the opportunity to be here in this environment."
Joining Bell on the All-Tournament team were JayVaughn Pinkston of Villanova, Zach McCabe and Roy Devyn Marble of Iowa, and Perry Ellis of Kansas.