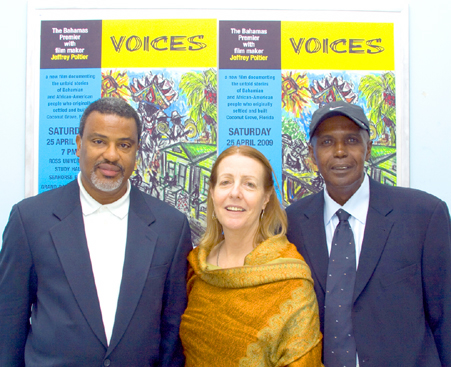 <<<Bahamas Film Commissioner, Craig Woods (left) stands with Jeffrey Poitier, nephew of  famous Bahamian actor Sidney Poitier, and Jeffrey's wife Ellie at the screening of their documentary film, VOICES on April 25th at Ross University. Photo: Lyndah Wells
Grand Bahama Island –  Bahamian actor and film maker, Jeffrey Poitier and his wife Ellie were on island this past weekend to screen a portion of their documentary film, VOICES about how Bahamians were the first settlers of Coconut Grove, Florida on Saturday, April 25th.  The footage for this screening was only edited days before the event, as the Poitier's wished for the Grand Bahama audience to see fellow Grand Bahamians who were interviewed in their over 600 hours of video footage.
Although none of the sponsors had the opportunity to view the film beforehand, the event was sponsored by The Bahamas Weekly, the Ministry of Tourism, Ross University, and the Pelican Bay Hotel. The approximately 2 hour screening,  introduced by Bahamas Film Commissioner  Craig Woods,  took place in the state-of-the-art study hall of Ross University's interim campus at Seahorse plaza which offered a unique viewing experience with 6 screens.  Part proceeds of the event went to the Grand Bahama Heritage Foundation and both Chantal Bethel and Darius Williams of the Foundation were on hand to present the Poitier's with a framed print from Mrs. Bethel and a signed copy of William's book "The Rail and Locomotive History of Grand Bahama".
"This is an important story to tell, and it reinforces the role that history and art can play in connecting Bahamians to their heritage. These funds will support the Freetown Historical Project, currently in production, which is using the vehicle of art to capture the oral histories of that settlement," said Chantal Bethel of the Foundation.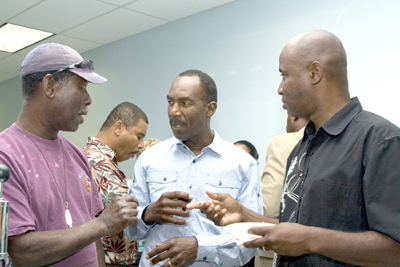 Many attendees of the screening felt that VOICES was a bit long and that they were distracted by extraneous background noises in most of the scenes.  Volume levels were also an issue.  While many felt that much of content of the film was good, many said the dynamics were too vast.  "I thought I'd learn more about how Bahamians settled in the town, or I had hoped to see more of what the town looked like," said one viewer.
Despite the still-raw footage the audience viewed, those that appreciated the film most were those that either lived in Coconut Grove at some point in their life, like Joe Fox and his wife Nelda, or those that knew most of the people in the film. Tony 'Macaroni' Hanna said he thoroughly enjoyed the film as most of the people that were interviewed he knew, some of which are no longer living. Hanna was also a childhood friend of Poitier's, so he shared that being able to view this film meant very much to him.
Interviewed in the film and attending in the audience was Calvin Johnson, former Bahamas Senator and Counsel General to the United Nations.  Members of the Poitier family flew in to share in the Bahamas premier screening, those being James and Connie Poitier and her Aunt Christine (Attles) all of Port Orange, Florida; Jeffrey's Aunt Gladys (Hurnes) of Miami; Jeffrey's cousin Bruno Poitier along with nephew Philip Poitier Jr. of Nassau.   Jeffrey's niece Coco Poitier of Freeport and his sister Barbara Poitier also attended with her daughter Chantelle Poitier.
"Working on this project has been the dream of my lifetime, and to be asked to screen a portion of it for my people at home in Freeport was a great honor!   I will never forget all that growing up in The Bahamas has provided me," said Jeffrey Poitier.
Jeffrey and his wife Elly, who are the direct team that have been working on the production return to their home in Coconut Grove with much work ahead of them. Poitier stated he still had interviews he promised to conduct and hundreds of hours of editing ahead of them to complete their work, which they hope will one day be used in schools within The Bahamas.
The organizers wish to thank the following who helped make this event possible: Ministry of Tourism, Bahamas Film Commissioner Craig Woods, Ross University, Pelican Bay Hotel, Bahamas Ambassador to Washington Cornelius A. Smith, Dianne Johnson, Freeport Advertising and Printing, Coldwell Banker James Sarles Realty, Bahamas Events 24/7, Bahamian Brewery and Beverage, Chantal Bethel, Methice Rigby, Brice Limo Service, Agave Restaurant, Sabor Restaurant, Emerald Isle Café, Island Java, Italian Specialty Imports, La Belle Salon, Le Med Restaurant, and Mary Star of the Sea School.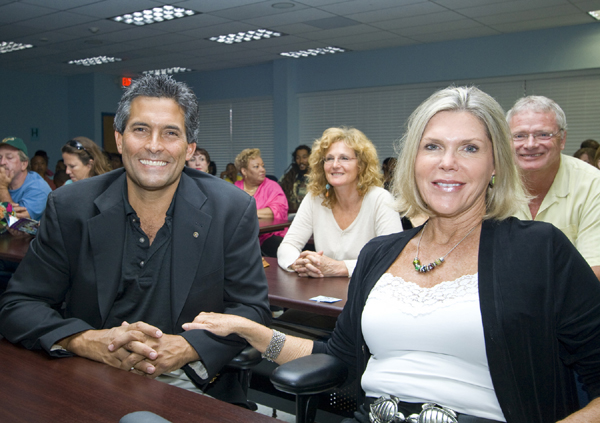 A large crowd came out to see the Bahamas premier of the documentary VOICES and support the Grand Bahama Heritage Foundation. Seated in front is James Sarles of Coldwell Banker James Sarles Realty (a sponsor of the event) with his wife Marina Gottlieb-Sarles. The couple seated behind them is Richard DeVries and his wife Elly Decter. The Ross University Study Hall offered a unique viewing experience with 6 screens. Photo: Lyndah Wells