Win A $ 3,000 Grand Prize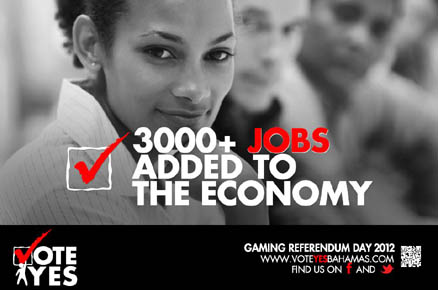 The Vote Yes gaming referendum coalition announced today it is hosting a competition to find the song, skit, dance or poem that best tells the story of why a vote for gaming is a vote for a better Bahamas.
"We are pleased to announce that the competition, What You Sayin', opened today as part our campaign to deliver accurate information to the Bahamian public in a way that is both educational and entertaining," said a spokesman. "We want to take the emotion out of the discussion and make sure that it is packed with information — the number of jobs at stake, the good that the additional revenue to government can provide, the community contributions which web shops make currently. In The Bahamas, one of the most effective ways of delivering a message is to do it through song or dance."
The contest with first, second and third place prizes of $3,000, $1,500 and $750, respectively, requires contestants to upload skits, dances, poems or songs to YouTube on the Vote Yes Facebook page or on Twitter. The video with the most Likes or Tweets will win. Videos have to be a minimum of two minutes and no longer than 10  minutes. No nudity, foul language or inappropriate representation of behaviour, including bullying, will be allowed to be posted.
"We want to re-affirm the importance of casting your vote, whatever that vote may be," said the spokesman. "And we want to do it in the most positive way possible. There's more information on our website, www.VoteYesBahamas.com, click on the What You Sayin' tab. We hope to generate a lot of interest and trust that those who enter and those who vote will have a lot of fun with the contest recognising, though, how serious a matter the campaign is and what is at stake for the betterment of The Bahamas. There is no fee to enter and contestants are allowed two entries." Deadline is November 5.
The Vote Yes gaming referendum was created to gather and disseminate accurate information about the role of gaming in The Bahamas and its contribution to the economy as the country faces a national referendum on whether or not to legalize a practice that has been ingrained in culture, if not in law, and is estimated to generate more than $40 million annually.