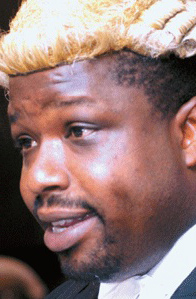 Nassau, Bahamas — Yesterday while on Facebook more arguments developed on the BAIC scandal where FNMs were helping broke FNM at the expense of the public purse.
BAIC paid thousands of dollars to the law firm of Branville McCartney where the Parliament learnt, according to Edison Key, no work was ever done. Key claimed McCartney solicited the business while he served in the Cabinet of the Bahamas. The decision we know was to help the broke lawyer Don Saunders who failed in his election bid to become a Member of Parliament for Golden Gates.
Yesterday, Wayne Munroe commented on the matter and here's what he recorded online.
Wayne Roosevelt Munroe said:
The sad thing about the FNM and PLP combined attempt is that the PLP missed and continues to miss an opportunity to stand up for its supporters. Here goes…I represent most of the persons who BAIC hired Don Saunders to evict from the Industrial Park. I have always represented some of them and Don Saunders has always represented BAIC. My clients appear to have been selected for eviction because they were PLP supporters. Instead of the PLP standing up for its supporters try to jump on a rickety bandwagon. I suggest that all of the PLP supporters who are involved in this take note of the lack of support being offered by your party and come over from the dark side.
DNA candidate admits their leader's involvement in victimization against PLP whilst as a Minister, then later an FNM MP. Wayne Munroe, while trying to blow his own horn, Munroe missed the boat again! He says that he is representing persons who purportedly have been victimized by BAIC as they are the only ones chosen to be evicted, PLPs.
He says that Don Saunders who has always represented BAIC was hired to do this. As the story goes, Halsbury Chambers was instructed to represent BAIC and despite the back and forth between Key and DNA leader Branville McCartney, one thing for sure is that Branville at some point based on the letters submitted by Key, had some involvement in representing BAIC.
We are not going to opine as to who got the business or not, but now we see while as an FNM, it was okay to assist in the victimization policy of the Free National Movement, but now when it is convenient you all just realize your actions was wrong? Branville McCartney was complicit in victimizing PLPs at the behest of PAPA and the FNM.
The only conclusion to be drawn is that McCartney was in full agreement with the FNM policies he now complains about! Wayne you better come over from the 'dark side'.
Boy, it isn't easy being green!