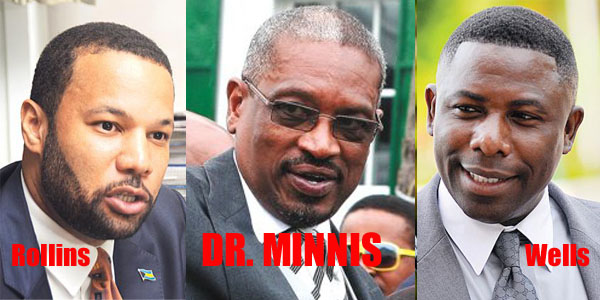 On Thursday, 5th November, 2015, the Free National Movement held a Special-Called Central Council meeting at its national headquarters on Mackey St. Hon. Dr. Hubert A. Minnis, Leader brought Council members up to date regarding the decision of Mr. Renward Wells, MP and Dr. Andre Rollins, MP to join the FNM.
In attendance along with the Party Leader were Sen. Hon. Michael Pintard, Chairman, the Secretary General, Members of Parliament including; Mrs. Loretta Butler-Turner and Richard Lightbourn, Honourable Senators including; Carl Bethel and Lanisha Rolle, many Senior Party Officers and others including; Executive Committee Members, Meritorious Council Members and other Council Members. In fact, Council attendance far exceeded the usual experience. Councilors were advised that both Mr. Wells and Dr. Rollins made application to become card carrying members of the Free National Movement in the constituencies in which they reside and their applications were subsequently approved. As has been the Practice, Convention and Custom of the Party; the said applications were approved by myself and did not require a meeting of the Executive Committee or the Central Council.
It was also noted by the Party Leader that the said membership approval was not for their candidacy as that is a matter for the Constituency Association in the first instance, followed by a recommendation by and from the Candidates Committee/Executive Committee and finally, ratification, as the case may be, of any and all recommendations, by the Central Council of the Party. However, as financial members of the FNM, both gentlemen would be rightly entitled to make application, as any member in good standing would be able to do, in order to offer themselves as standard bearers of the Party in the next general elections.
Only one Council Member raised several questions regarding the membership application by and of Mr. Wells and Dr. Rollins and same was answered adequately and completely. At the conclusion of the meeting, Council Members overwhelmingly and enthusiastically (thunderous applause) supported the membership and joining the FNM of Mr. Wells and Dr. Rollins.